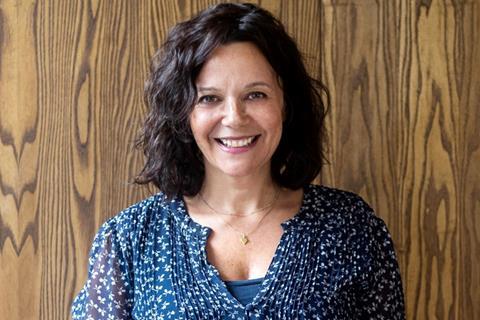 The scripted television industry has "changed enormously" for women, according to UK producer Nicola Shindler, who was honoured at Series Mania last night with the festival's Women in Series Award 2023.
Shindler made her name producing Russell T Davies hit drama Queer as Folk in 2000. When she began her career as a script editor there had been very few female producers with whom to work. "But my generation kind of moved up in the UK to be producers. A lot of those women have gone on to be executive producers. The landscape now is totally different, and has many very talented women who are making great drama, comedy, all kinds of television."
Last year, Shindler launched her new production company Quay Street, backed by ITV Studios. Its debut production Nolly was recently released on ITVX and is playing at Series Mania, while its upcoming projects include BBC1 feature Men Up, Harlen Coben drama Fool Me Once for Netflix and ITVX comedy drama Significant Other.
The exec previously founded Red Production Company, the scripted indie behind acclaimed UK series including It's A Sin and Happy Valley.
Shindler said many of the creative decisions she has made, and the shows she wants to work on, "are influenced by the fact that I'm a woman, and by the fact women's voices aren't always the centre of the discussion. Certainly, when I started in the industry, they weren't very dominant in television at all. I'm proud to be able to show to other women, younger women, that there is a role for them, and then there's a place within this industry – it is really important to me."
Shindler said she liked to tell "gripping" stories rather than "more literary stories".
"I want to tell a story that people have to keep watching," she explains. "Pace is always really important to me…There's always an energy about shows we make."
Above all, she said she likes to work with writers, directors, producers and novelists who have a "really strong voice and a strong take. And I think audiences do as well. They don't want to watch something that's bland, and that could be made by anyone. You have to put a writer at the centre of it."
She stressed the importance of keeping the creative vision at the centre of every decision that she makes. "A lot of what I do is financial, and a lot of what I do is creative. But what I need to do is remember why we're making this particular show, what it's about, what the writer is trying to do.
"It's a lot of very, very hard work. There's no way around that. It's really hard. There are going to be lots of problems along the way."
Shindler noted very local dramas are often those that sell best internationally, citing strong sales for Happy Valley. "We never set out on Happy Valley to register so strongly with people in, you know, in Idaho. It just wasn't designed like that. But because the themes were universal, it has a wide appeal."
She said the industry has changed in other ways since she began working, and so has what appears on screen. "That is about more women in the industry, more people of colour in the industry, more people from less middle-class backgrounds in the industry. The stories that I get to tell are more diverse naturally. Which is great, both because it's the way it should be but also because there are so many more stories."
Series Mania's Women in Series Award is presented in association with European Women's Audiovisual Network (EWA Network) and Pour Les Femmes Dans Les Médias (PFDM), and is given to a remarkable woman from the audiovisual industry to honour their vision and leadership.
Previous recipients of the award are EbonyLife chief executive Mo Abudu and HBO Max Emea general manager Christina Sulebakk.
Shindler was Interviewed on stage at Series Mania by Screen's France correspondent Rebecca Leffler.