EXCLUSIVE: Bosnian director and winner of Berlinale's Golden Bear plans to shoot her film about the wartime massacre next autumn.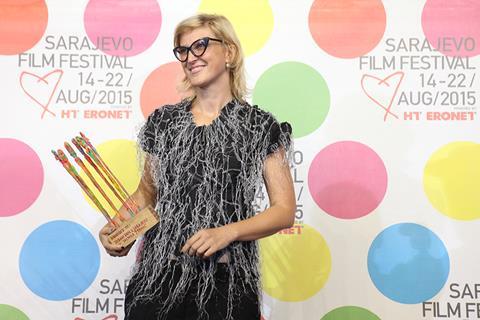 Jasmila Zbanic has revealed further details of her planned drama about the Srebrenica massacre, in which more than 8,000 Muslim Bosniaks were killed by Serbian forces in July 1995 during the Bosnian War.
The Sarajevo-born director, who won the Berlinale's Golden Bear in 2006 with post-war drama Grbavica, has written a script after securing financial support from Creative Europe and hopes to shoot the $5m (€4.5m) film in autumn 2016.
"At the end of this year, I will have it packaged to present to producers," said Zbanic from the Sarajevo Film Festival, where her documentary One Day In Sarajevo received its world premiere in competition and won the Human Rights award.
"Because it's a very heavy subject, I had to find a way of making it a human story and even people who have no connection with war or this kind of experience will still be able to connect emotionally with the human dimension of the story."
The film, titled Srebrenica, will centre on the true story of UN interpreter Hasan Nuhanović, who was based at the town when it fell to the Bosnian Serb Army in July 1995. Nuhanović's family was among more than 5,000 civilians who joined 25,000 refugees seeking shelter on a UN base in Potočari.
As an interpreter, Nuhanović was instructed by Dutch officers to tell his own family they had to leave the base following their negotiations with Bosnian Serb general Ratko Mladić and they became victims of the Srebrenica genocide.
"We are telling of a moment in history which could have been different for 8,000 dead people, if someone had been more brave and if decisions were made in a different way," said Zbanic.
"It is my biggest budget film to date, more than double anything I've done before, as there are a lot of people in the picture as well as guns, tanks and more. But this kind of story deserves to be a big picture. It will be my first war film."
Srebrenica will be produced by Damir Ibrahimovic through Deblokada, the Sarajevo-based production company he runs with Zbanic. The project is seeking co-production partners and a distributor.
"For me, this story is very emotional story about Europe and my country," added Zanic.
"It has a lot of human ambiguity that we maybe don't get from other media, from news or what we know about Srebrenica. When you start researching you see how many dimensions this act had.
"It will be a personal story of a Bosnian translator at the UN who had to tell to his family: "You have to leave the base." He translated their death sentence.
"We all have experience of being forced to do things, which we regret for the rest of our lives. Why we didn't do something differently."