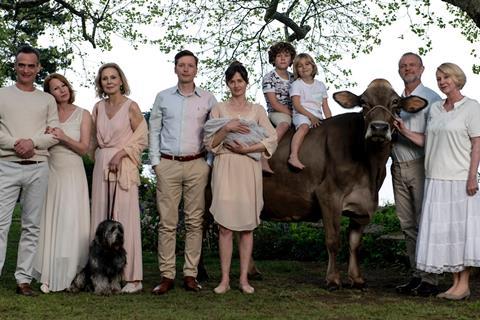 Zeitgeist Films in association with Kino Lorber has acquired North American rights from The Match Factory to Swiss director Bettina Oberli's comedy My Wonderful Wanda.
The film is scheduled to open in early spring 2021 and stars Agnieszka Grochowska as a Polish home care attendant to the patriarch of a wealthy family as old family secrets surface.
My Wonderful Wanda premiered at the virtual Tribeca Film Festival this year, where it received a special jury mention in the Nora Ephron Award category.
Zeitgeist Films co-Presidents Nancy Gerstman and Emily Russo negotiated the deal with Thania Dimitrakopoulou of The Match Factory.
Zeitgeist Films in association with Kino Lorber previously released The Divine Order from Wanda producer Reto Schaerli.
Gerstman and Russo said, "We fell in love with My Wonderful Wanda in our "virtual screening" at the Tribeca Film Festival and are sure she will find her way into the hearts of audiences in North America. This clever, surprising, and assured narrative film pushes the hot buttons of class and familial warfare with a delicate, comedic touch."
Dimitrakopoulou said, "It's wonderful to join forces once more with Zeitgeist together with Kino Lorber for bringing this entertaining, witty, bittersweet comedy by Bettina Oberli to American audiences. After months away from cinemas, Zeitgeist will welcome audiences back with a heartwarming and amusing film and we could not be happier about it."
Oberli's feature credits include 2004 San Sebastian selection Im Nordwind, 2006 local box office hit Late Bloomers, and French-language film and Locarno entry Le Vent Tourne.