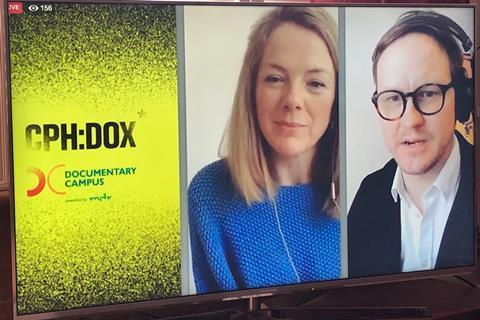 Life during the coronavirus pandemic will surely see "TV shows and formats coming out of Zoom," said Jordan McGarry, head of talent development and production at Film London, speaking during the virtual CPH:CONFERENCE on March 25.
That kind of creativity is something she encourages and McGarry said she hoped filmmakers working across documentary and fiction will broaden their horizons beyond only 90-minute features destined for cinemas. "There are other opportunities for filmmakers and storytellers. The skills that our community has are so transferable. You don't have to pick [one format or another], in the past the lines were so clear between TV and film, and people didn't take online content seriously. Each of these mediums now stands on its own two feet."
McGarry also said she is excited by the potential for VR storytelling and she's "very excited that gaming and film are getting closer together."
Luke Hyams, head of EMEA for YouTube Originals, spoke about what kinds of content his company is trying to commission: "The impetus for YouTube Originals is to be able to really tap into and enhance some of the personalities, trends, formats and scenes that have made YouTube so popular to different groups of the audience."
He said YouTube is happy to partner with many kinds of personalities, companies and co-producers. The company obviously prefer to have global AVOD rights but can work with exceptions to that rule, such as a holdback in a certain territory. Working with theatrical launches is also possible – "We're open to have theatrical of a part of anything we invest in," he added.
YouTube Originals has an open email address to take pitches - - and he wants content creators to consider, "what contribution will this make to the world, to the YouTube ecosystem of content, how are you giving us something we don't have now?"
In one example of the latter, he noted, "brilliant snowboarding documentaries get pitched [to us frequently] and there are so many amazing snowboarding videos out there already available for free."
Ideally, YouTube Originals like to find a popular YouTuber who has "a decent-sized channel and wants to do something new for the audience but doesn't have the means." Originals funding can be like "putting a jetback on their back" in getting more ambitious, higher-budgeted content made.
YouTube Originals will be launching 12 new shows in the UK this year, and three in France, with work in other territories to grow. Commissioning is driven in three areas, he noted: learning, music and personality-led stories. Two recent projects that fall under those criteria are series Birthday Song with the singer Lewis Capaldi and Terms and Conditions, Brian Hill's feature-length documentary about the drill music scene in the UK.
Hyams said he recognised the unique position YouTube is in with its direct relationship with the audience. "We can get instantly, an honest appraisal through the audience through views, engagement, comments, shares. It's a wonderful thing to be able to get that direct response."
Responding to disruption
'Tackling Disruption: Industry, Platforms, Audiences' was day three of the five-day CPH:CONFERENCE, which CPH:DOX runs in partnership with Documentary Campus, with support from Creative Europe/MEDIA.
The digital conference, impressively assembled when plans for the physical event had to be called off on March 12, was streamed live on Facebook (where as many as 170 people tuned in at any time). The conference continues today and Friday. The sessions will also be archived here.
Estonia-based Sten-Kristian Saluveer, CEO of Storytek and head of programming for Cannes Marche's NEXT, curated and moderated the day.
Further speakers included Nusrat Durrani, US producer and former founder of MTV World, who spoke about a new short form documentary series he is working on, telling stories from Americans who live outside the major cities. "We are trying to tell the stories of ordinary people and rendering them heroic," he said. "We are reimagining the form and cinematic language of how those characters are actually presented."
He screened a short film by Kevin Bay called Help Is On The Way!, showing an activist working among poverty-stricken Lowndes County, Louisiana. "We've tried to give tools and empower young people to tell stories in innovative and inspiring ways about people who have not really been celebrated," Durrani said.
He encouraged other creatives to take risks not just with stories but with form. "We have to be bold and we have to take risks and we have to innovate the form itself. For doc filmmaking to appeal to a younger audience we have to speak in contemporary cinematic language…. There is a lot more permission being given to doc filmmaking. We have to evolve the form itself. Don't be nervous about what you're doing, be bold. Always try to tell stories of people we have not heard from or seen."
Berlin-based technologist Wolfgang Alan Sternberg spoke about his work with the photographer, filmmaker and artist JR, including on JR's augmented reality (AR) app, JR:murals. "Togetherness and different people's opinions is key to his artwork," Sternberg said. The app, tied to a moving mural with videos of 1,200 people, allows the user to listen to each person's individual story.
Sternberg advised, "Stay focused on what's important, the stories of people. Simplicity is the most powerful thing. Content is still king. If the content is shit, then the technology is useless."
Uri Levanon, CEO of Sweden's Haste Media, spoke about the seismic change in the industry going from filling linear hours on TV to "filling buckets of VOD content…That's a fundamental shift. With linear you just tune in and watch. VOD is a completely different story – you are being put into topic clusters, algorithms."
He said the film world could learn a lot from YouTube – with someone like Shane Dawson getting 27m views for his documentary series Inside The Mind of Jake Paul. Levanon also said the documentary world should looking at how Twitch can launch content – "Twitch is not just for video games, it's the new live TV," he added.
Digital distribution expert Mitch Mallon of US-based Stadium Media, advised filmmakers to keep an eye on the AVOD market, looking at players like Tubi and local offerings. He said that TVOD releases even if they don't result in sales can help build awareness for an eventual AVOD release.
Mallon warned that with any VOD offering, "There is no endless shelf space…You still have to be able to find it and drive traffic to it."
Brittany Kaiser, the whistleblower and ex-employee of Cambridge Analytica, ended the day speaking about data protection as well as the power of documentary to communicate tricky subjects. Karim Amer and Jehane Noujaim's popular documentary The Great Hack featured Kaiser's work with the Own Your Data Foundation she started two years. "How do you show people something that is invisible? And talk to people about something they cant 'touch and see'? But [The Great Hack] was a popular and impactful documentary and made one of the biggest impacts in the privacy and data protection conversation."
She added, "Right now, talking about data rights is one of the most important conversations we can have." She noted that in the coronavirus crisis, ordinary citizens need to be even more mindful of data and privacy. "There is a huge need right now as our lives become more digital."