Actor Daniel Bruhl, footballer Ronaldo, director Marc Forster and writer Peter Morgan were among those to walk the 'green carpet' for the Zurich Film Festival's opening film, Rush.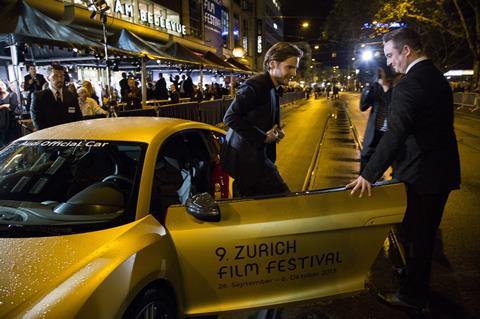 The 9th Zurich Film Festival launched last night with the Ron Howard's Formula 1 drama Rush – the film's premiere in the German-speaking world.
The glamorous evening saw 750 invited guests walk the 'green carpet', including actor Daniel Bruhl, who plays Niki Lauda in Ron Howard's racing drama; the film's screenwriter, Peter Morgan; and Cross Creek Pictures producer Brian Oliver.
Also in attendance was World War Z director Marc Forster, who is heading the international jury at this year's festival, and footballer Ronaldo who has been invited as part of ZFF's sidebar on Brazilian cinema.
The film was given a rapturous round of applause and whistles as the final credits rolled and Swiss TV personality Sandra Studer welcomed Bruhl, Morgan and Oliver to the stage as well as Bruhl's double and stuntman Maruo Pane.
Asked why Oliver was interested in producing a film about a sport not hugely popular in the US, the producer said: "When I read the script, the thing that resonated from the screenplay was that if you took the racing out it would still work.
"We never set out to make a racing movie. We set out to make a character study of these two people and what drives them… and that's credit to Peter Morgan's great script."
Morgan, who also wrote the script for Ron Howard's Frost/Nixon as well as Oscar-winners The Queen and The Last King of Scotland, said his marriage helped inform his writing.
"I'm not really a Formula 1 guy. But I'm married to an Austrian and I'm English so the idea of writing a story about a battle between an Austrian and an Englishman felt very familiar to me," he said to laughter from the audience.
"A number of people had approached Niki about doing his story and when I came up with the idea of doing it through the rivalry with James he loved that idea. He was very fond of James and had a great deal of respect for him."
Bruhl, who will next be seen in Wikileaks drama The Fifth Estate, revealed Lauda's reaction to Rush.
"When he first saw the movie, he was very touched," said Bruhl. "It was tough for him to relive these moments of the accident. In fact, after seeing it for the third time in London he couldn't sleep. But he's still seen it again and again and is very proud of it, which is a big relief especially for me because he is as blunt as he is in the movie and would have told me if it was "bullshit"."
When told that Europeans are afraid of losing the actor to Hollywood, Oliver joked: "He's moving to LA to make Transformers 5."
Morgan added: "If you're English, you only get to play villains in Hollywood. But Daniel hasn't shaken his many accents so won't be typecast. He can speak four languages… so watch out, Christoph Waltz."
Opening speeches
Ahead of the screening, Federal Councillor and Culture Minister Alain Berset delivered the opening speech and said: "The Zurich Film Festival offers a broad spectrum of international and, most particularly, German-language productions. The festival's focus on emerging directing and screenwriting talent ensures a continual fresh wind."
Mayor of Zurich Corine Mauch also addressed the audience and praised the "fantastic programme containing international film highlights and delicacies, an in-depth view of Brazilian film production and many premieres from the German-speaking area."
Mauch added that she is particularly happy "that the collaboration which began last year with Forum Filmmusik has also continued this year."
Co-directors Nadja Schildknecht and Karl Spoerri also made welcome speeches.
Referring to upcoming star appearances at this year's festival, including Hugh Jackman, Harrison Ford and Michael Haneke, Spörri said: "In addition to the many big names, the ZFF remains first and foremost as a place of discoveries."
The festival will screen more than 120 films across its 11-day run.
New this year is a partnership with the San Sebastian Film Festival; a Swiss screenwriting competition; the second mini market of German-language films - both completed and works in progress; its second International Music Competition, celebrating the work of film composers; the fourth Film Finance Forum; and a focus on Brazilian films in the New World View section.
Masterclasses will be delivered by Harvey Weinstein, Working Title Films producer Tim Bevan and directors Michael Haneke, Marc Forster and Markus Imhoof.