Dir: Ning Hao. China. 2013. 117mins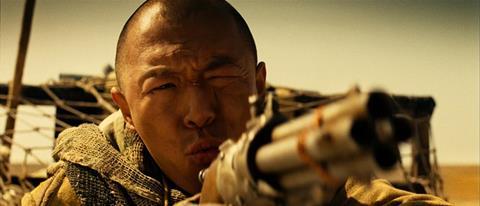 Widescreen sepia deserts, lashings of Spanish guitar and highway mayhem a go-go - Chinese actioner No Man's Land (Wu Ren Qu) milks them for all they're worth, and more so. This boisterous entertainment by Ning Hao - director of Crazy Stone and Mongolian Ping-Pong - is in a vein of pastiche updated spaghetti Western action that you might call 'phoney Leone'. In the US, the vein has been milked variously by the likes of John Dahl, Oliver Stone and the Coens, and Ning gives the sub-genre a boisterous spin of his own, although the knockabout violence and escape-from-peril twists pile up to eventually numbing effect.
But it's all very slickly executed, if impersonal, with much wham-bam road content. In Chinese markets, the film - completed in 2009 and released belatedly, reportedly because of censorship issues over its representation of police - made over $20 million in its first week of Chinese release in December. The film should export healthily, and play in festival cult slots - essentially, find a home wherever there's a fanboy following for post-Tarantino genre-twisting fun.
The setting is in the vast, arid expanses of the Gobi Desert, which a Tex-Mex flavoured score gives that old Western borderline feel. The action begins with the arrest of a falcon rustler (Huang Bo) and a car crash caused by his leather-jacketed, dagger-toting boss (a memorably scowling, Van Cleef-like Duo Bujie). Self-serving city slicker attorney Pan Xiao (Xu Zheng) breezes into town and uses his cynical wiles to get the Boss acquitted of murder, then leaves with a sleek red car as his down payment. But once he comically manages to alienate the entire vicinity's raggle-taggle population, it becomes clear that he won't be seeing the big city again in a hurry.
Trying to manage his escape, with some caged falcons, a pile of loot and an apparently dead body (although stiffs have a way of resuscitating quickly here) Pan Xiao ends up with no allies except a roadside hooker (Yu Nan) - although her main role is the traditional one of screaming a lot and getting bound and gagged by whichever heavy wanders along next.
Engagingly cast with assorted character plug-uglies giving their all, the film goes gangbusters at the start, but once it hits the desert roads, the action really has nowhere much to go. More cars crash, more guns are fired, more (increasingly brutal) blows come Pan Xiao's way, more mariachi trumpet blares on the soundtrack. Intermittently, the hero offers ponderous voice-over theories about man, monkeys and the dog-eat-dog world. The relentless cynical tone is hardly leavened by a bathetically soppy coda. But splashes of black humour and the occasional authentically knockout action moment at least make it hard to dislike the film - or to lose interest for too long. The caged wild birds don't seem to have too happy a ride, though.
Production companies: China Film Group, Injo Films
International sales: China Film Company, katerina.warren@gmail.com
Producers: Sanping Han, Haicheng Zhao
Screenplay: Ning Hao, Shu Ping, Xing Aina
Cinematography: Du Jie
Production designer: Hao Yi
Editor: Cheung Yuan
Music: Nathan Wang
Main cast: Xu Zheng, Yu Nan, Huang Bo, Duo Bujie