Dir: Patricia Mazuy. France-Germany. 2011. 105mins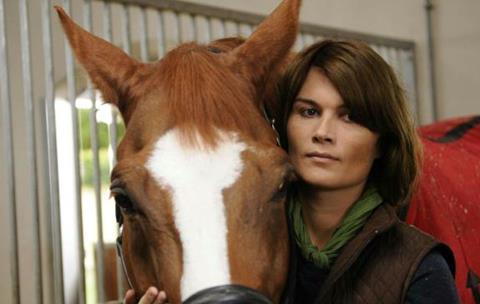 Despite its title, you won't learn a great deal about women or horses from Patricia Mazuy's new drama about a young woman obssessed with all things equine.
Ganz, one of the most distinguished contemporary European actors, seems distracted throughout.
A tricky plot for anyone who does not follow horse training on a regular basis, combined with unfulfilling direction and disappointing acting, this equestrian extravaganza fails to achieve its potential from its extravagant begining to artificial finale.
With names like Bruno Ganz, Josiane Balasko and Marina Hands involved, Of Women And Horses (Sport de filles), which screened at Locarno, may gain initial access into commercial distribution, but only for a brief period, before moving into the television circuit.
Gracieuse (Marina Hands) trains horses and believes she has a personal connection with every one she puts a saddle on. Furious when the latest filly she took care of is sold under her nose, she packs her bags and goes home with an enormous pout on her face.
Next, she is taken on as a stable girl at a horse farm where she meets Franz Mann (Ganz), a legend in the world of horse Dressage and Josephine (Balasko) the woman who runs the farm and Mann's life.
The star rider of the farm is Josephine's daughter, Alice (Isabel Karajan) but Gracieuse doesn't waste any time playing second fiddle. She learns all of Mann's tricks by googling his name and watching his training techniques in the local internet café.
When stern, bossy Josephine packs up Mann, her daughter and some horses, and takes them to a horse show in Germany, Gracieuse fierily walks in, takes out a horse that had been given up as hopeless, trains him in the forest and in a couple of days she's ready to steal one of the farm's cars, attach the horsebox to it and rush to the prestigious show where she will assume her rightful place, if not in the rink, because it's too late for her to compete, at least in the heart of Mr. Mann, who despite his age, seems to have every woman in sight groveling at his feet.
If the plot sounds somewhat contrived, it looks even more so on screen, with bursts of out-of-context dialogue. And Marina Hands' Gracieuse is anything but what the name of her character suggests. Her grimaces reach the absurd when she drives her stolen car and horse through German highways while reciting mantras of horse training that no one else but she can follow.
Balasko shows little sympathy or understanding for the money-grubbing, power-hungry older woman she plays and Ganz, one of the most distinguished contemporary European actors, seems distracted throughout. He is supposed to be the world's greatest horse trainer but he never gets up in the saddle, not even once.
Caroline Champetier, one of France's most accomplished cinematographers, shows her usual dexterity behind the camera but John Cale's score, loud as it is, often falls flat…but at least the horses look good.
Production companies: Lazennec Films, Maia Cinema, Vandertastic Films
International Sales: Le Pacte, www.le-pacte.com
Producers: Gregoire Debailly, Gilles Sandoz, Hanneke van der Tas
Screenplay: Patrice le Rolland, Patricia Mazuy, Simon Reggiani
Cinematography: Caroline Champetier
Editor: Mathilde Muyard
Music: John Cale
Cast: Bruno Ganz, Marina Hands, Josiane Balasko, Isabel Karajan. Amanda Harlech