Want to get the audience to switch off their phones before a screening? This is how the Snowden director does it.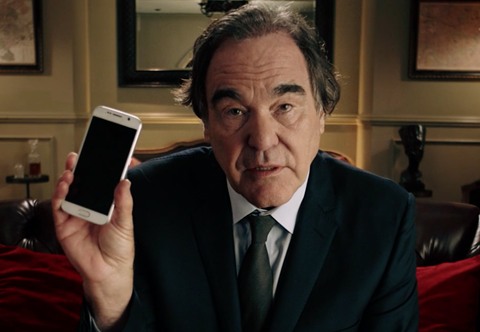 Oliver Stone is not known for sugar-coating things and his poker-faced delivery is a delight in a new and timely PSA. That said, the sincerity of his jeremiad will chill the blood.
The public service announcement first aired at Comic-Con a couple of weeks ago and arrives in the run-up to Snowden's official world premiere in Toronto next month and the September 16 US release through Open Road.
There, Stone and his Snowden key cast of Joseph Gordon-Levitt, Shailene Woodley and Zachary Quinto impressed during a panel discussion dominated by the subject of surveillance.
Later that same day [July 21] Stone attended an invite-only screening of the film, when Edward Snowden himself joined in a Q&A from Moscow via the internet.
Snowden was typically guarded about what he said and did not seem unduly bothered about beaming into San Diego, telling the small audience that the FBI can request transcripts of Google Hangouts conversations.