Dir. Neil Jordan. Ireland/US. 2009. 111 mins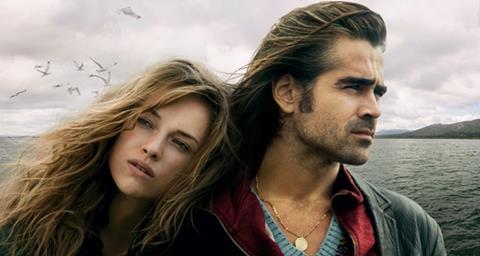 Neil Jordan takes a turn towards the whimsical with Ondine, a modern love story infused with strong flavours of Celtic myth. Jordan's first original screenplay in more than a decade carries echoes of the fairytale elements he brought to early films like his 1984 feature The Company Of Wolves and to his work as a short story writer. The result is a moody, overlong mixture of realism and fantasy that may be too offbeat for most mainstream tastes. It is a film that needs to beguile an audience and lull them into a receptive frame of mind and that may take more effort than most audiences are willing to make.
Cinematographer Christopher Doyle injects a more realistic touch, eschewing picture postcard options in favour of atmosphere
The combination of Jordan and star Colin Farrell should be enough of an attraction in Ireland to guarantee a home grown success but elsewhere Ondine will require the good will of incurable romantics to make any impression on the international market.
Always an underrated actor, Farrell brings a brooding, Heathcliff-style presence to the role of Irish trawlerman Syracuse. He doesn't overwhelm the film with his star presence but just inhabits the skin of the character; a wary loner and recovering alcoholic, divorced from his wife and devoted to his daughter. He has the weary stoicism of a man who faces the world one day at a time and has grown to have few expectations.
On one particular day, he discovers a beautiful woman trapped in his fishing nets. He doesn't know whether this is another stroke of misfortune or the first good omen in years. There is the slimmest possibility that she might be a mermaid or even a figment of his imagination but the woman he calls Ondine (Alicja Bachleda) decides to accept his offer of sanctuary.
Syracuse's ailing daughter Annie has a vivid imagination that allows her to view Ondine as a selkie; a mythical sea creature who can bring luck and good fortune in her wake. There seems plenty evidence to back her claim especially when Syracuse's fishing haul improves. It is a comforting escape from reality for both father and daughter but eventually reality intrudes in the shape of a sinister foreigner in search of a mystery woman.
Ondineis a sincere, deliberately paced tale that finds some welcome humour in Syracuse's relationship with the local priest, played with a dry, sardonic wit by Jordan regular Stephen Rea. There are also some wry smiles provoked by the precocious comments of Annie, one of those screen children who are unnaturally wise beyond their years.
Cinematographer Christopher Doyle chooses not to emphasise the magical realist properties of the story, instead he injects a more realistic touch, eschewing picture postcard options in favour of atmosphere. He captures the southwest Irish coastline in glowering skies, slate grey seas and misty mornings. A rugged sense of the country is one of the elements used to counterpoint what might seem like a fey storyline.
The film's best moments come in the tender scenes depicting the growing relationship between Syracuse and Ondine and in the enduring bond between father and daughter. In those scenes, Ondine displays some of the simmering soulfulness of a Norah Jones song.
Despite its many charms and sweet allure, Ondine still remains a minor work from a major filmmaker.
Production Companies
Wayfare Entertainment
Octagon Films
International sales
Paramount Vantage
+1 323 956 5000
Producers
Neil Jordan
James Flynn
Ben Browning
Screenplay
Neil Jordan
Cinematography
Christopher Doyle
Production desisn
Anna Rackard
Editor
Tony Lawson
Music
Kjartan Sveinsson
Main cast
Colin Farrell
Alicja Bachleda
Stephen Rea
Alison Barry
Tony Curran