Dir: Penny Woolcock. UK. 2012. 90mins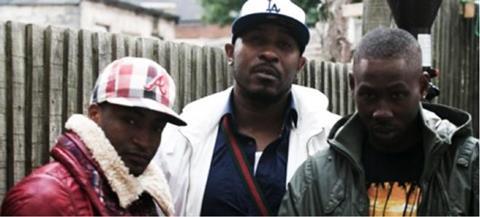 Following the attempts to negotiate peace between rival Birmingham gangs, One Mile Away offers thought-provoking insights into "broken" Britain and the anguish of a lost generation. Penny Woolcock's involving documentary is full of interesting characters and tense encounters but it frustrates as frequently as it illuminates with repetitive reflections on the futility of an impossible situation and a sense that we are missing pieces of the bigger picture. One Mile Away won the Michael Powell Award at the Edinburgh International FilmFestival, having previously screened at the Sheffield DocFest and merits extensive further Festival screenings.
Woolcock has a talent for gaining trust and giving a voice to those marginalised or demonised by the mainstream media.
The charismatic Dylan Duffus, who played Flash in Woolcock's fictional feature 1 Day (2009), emerges as a significant figure in One Mile Away. He is willing to become a force for peace between the 'Johnsons' and the 'Burger Bar Boys', rival Birmingham gangs separated by little more than a postcode.
Woolcock provides some context to the current situation as one character recalls the Handsworth Riots of 1985 when black youths were fighting the police and the racism of the National Front, in contrast with an age in which they are only fighting, stabbing and killing each other.
There is little attempt to explain what lies at the roots of the gang war or define exactly who the gangs are. There is merely a general shrug of acceptance that nobody really remembers why it all started and now feels it is inescapable.
When Dylan from the Burgers meets with Shabba from the Johnsons, the peace process in Northern Ireland offers a powerful comparison with what they are trying to achieve. They even attract the support of Jonathan Powell, a key figure in those negotiations. The Handsworth Riots in 2011 give everyone a different perspective on the possibility of change and what is at stake for the city and a wider society.
Woolcock has a talent for gaining trust and giving a voice to those marginalised or demonised by the mainstream media. Dylan, Shabba and others voice their frustrations and fears, depicting a society that provides little in the way of role models or hope for generations of young black men. Woolcock also includes some powerful hip hop performances recorded on the streets of Birmingham that underline the anger and eloquence of those in the firing line.
Production company: Rare Day
Sales contact: Missing In Action Films info@miafilms.co.uk
Producer: James Purnell
Executive producers: Peter Dale, Dan Lawson
Editor: Alex Fry
Music: Urban Monk