Dir: Tony Jaa and Panna Rittikrai. Thailand. 2009. 110 mins.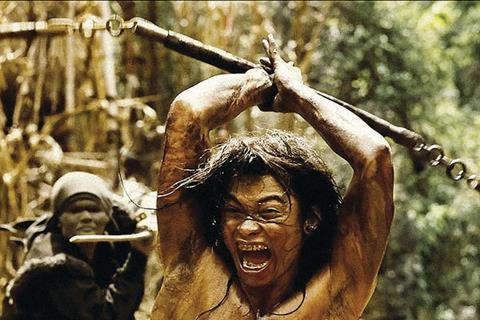 Considering the high level of martial-arts spectacle unleashed in 2003 Thai action film Ong Bak: Muay Thai Warrior, it's perhaps inevitable that any sequel would be a bit of a letdown. With that in mind, OngBak 2: The Beginning can't possibly match the novelty and inspired acrobatics of the original, but star and co-director Tony Jaa gives this new entry enough kick to keep audiences more than satisfied.
Jaa's dazzling martial-arts skills are all the drama most films would ever need
Ong Bak 2 has already played in several international markets – across Asian and in France – taking $8m during its run, and will be opening in the US on October 23. In reality, this sequel is only loosely connected to the original, retaining Tony Jaa and his martial-arts while transplanting the action to the 15th century and giving him a new character to play.
The period setting and lack of continuity may turn off some fans of the original, but the enhanced bloodshed of this new Ong Bak will probably more than compensate.
Living in a remote jungle village, Tien (Jaa) is a young man whose parents were murdered when he was a little boy. Adopted by a gang of bandits, Tien masters the art of combat, vowing to use it on those who killed his parents. His search for the assassins sends him into the heart of the jungle and into his own past.
Taking over the reins from Ong Bak director Prachya Pinkaew, Jaa and co-director Panna Rittikrai (who was the martial-arts choreographer for the first film) have moved the action from contemporary Bangkok but given this sequel a more epic scope, complete with elaborate period costumes, philosophical underpinnings and a melodramatic revenge storyline.
These accoutrements may lend an air of grandeur to Ong Bak 2, but the film's visual and narrative ambitions can sometimes come at the expense of its reason for being: the stunning fight sequences.
While Ong Bak 2 starts slowly, establishing Tien's backstory and then occasionally doling out extensive flashbacks to provide clues into who killed his parents, the film's second half surges to life on the strength of several impressive action set pieces.
The first Ong Bak stuck largely to hand-to-hand fights and balletic chase sequences but the sequel ups the ante, offering several bloody sword battles to go along with the occasional choreographed battle scene, which sometimes includes crocodiles and elephants.
Because of Ong Bak 2's revenge plot, there's good reason for bloodier carnage and an increased body count, but in the process this sequel does lose some of the charm and good humour that made the original not just jaw-dropping but also intensely entertaining.
Though Jaa remains a marvel to behold, Ong Bak 2 requires a more empathetic performance than the light-hearted original demanded. To be fair, the cast on the whole veers toward the overemphatic in their portrayals, milking the drama for all it's worth, but as a serious actor, Jaa doesn't quite have the chops. But that's hardly a crushing limitation since his dazzling martial-arts skills are all the drama most films would ever need.
To sign up for Screen's weekly Reviews Newsletter with all the week's new releases, internationalopenings and full festival reviews delivered free to your mailbox every Friday, please click HERE
Production companies
Sahamongkolfilm International
Iyara Films
US distribution
Magnolia Pictures
International Sales
Sahamongkol Film International
(66-2) 2730 9309
Producers
Prachya Pinkaew
Tony Jaa
Panna Rittikrai
Akarapol Techaratanaprasert
Screenplay
Ake Eamchuen from a story by Tony Jaa and Panna Rittikrai
Cinematography
Nattawut Kittikhun
Production designer
Suprasit Putakham
Editors
Sarawut Nakajud
Nontakorn Taweesuk
Music
Terdsak Janpan
Banana Record
Main cast:
Tony Jaa
Primrata Dej-Udom
Santisuk Promsiri
Pattama Panthong
Saranyu Wongkrajang
Sorapong Chatree
Nirut Sirijanya
Petchtai Wongkamlao