Ten years old in 2009, Optimum Releasing is now one of the UK's leading independent distributors and a key part of StudioCanal's European network.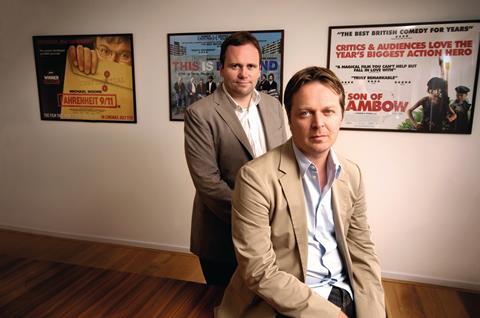 Flash back 10 years. The twenty­something Will Clarke is planning to set up his own distribution company. Clarke, who left Greenwich University a few years before and had been working for Mick Southworth and David Holloway at The Feature Film Company, secures $19,700 (£12,000) in seed money from investor Paul Higgins. They meet in a pub and sketch out the plans on the back of a beer mat. Thus, in 1999, Optimum Releasing is born.
"It's like the Wild West. It's great. There are going to be huge opportunities in the marketplace"

Will Clarke, Optimum
"I guess I was a bit naive. I'd set out the figures which spat out the sum of £12,000," Clarke recalls of his pitch to Higgins who became Optimum's chairman.

Today Optimum employs a staff of 46 at its Marshall Street offices in the heart of London's West End. The company's annual turnover has grown from $340,000 (£209,000) to $59m (£36m).

After a strong start to this year, with The Wrestler, Vicky Cristina Barcelona and In The Loop all making more than $3.3m (£2m) each at the UK box office, Optimum has pushed through the $164m (£100m) cumulative revenue barrier.

Optimum Releasing ('Optimistic Releasing' as its sceptical rivals originally dubbed it) opened in a tiny office barely big enough to fit a printer, let alone Clarke and his partner Danny Perkins, now managing director and COO.
"We didn't even register in people's minds," Clarke recalls.

The company's first significant release was a re-issue of a 50-year-old classic: Carol Reed's The Third Man (1949). Clarke and Perkins launched the black-and-white British masterpiece in the same week Star Wars: Episode I ― The Phantom Menace docked in UK cinemas. It was canny counter-programming.

The film raked in an impressive $526,000 (£320,000) from five prints and an outlay of $24,700 (£15,000) on p&a.
Co-founder Danny Perkins, who masterminded the marketing in the early days, remembers the goodwill towards the company. He was always prepared to go the extra mile to ensure Optimum movies grabbed the public's attention: on the release of The Third Man, he made sure there were zither players at selected cinemas, recreating the mesmeric music played by Anton Karas in Reed's classic.

"Distribution is the locomotive for everything we do"

Will Clarke, Optimum
Optimum's theatrical and DVD releases of Jean-Luc Godard's Breathless were likewise a labour of love. Perkins ― like Clarke ― is a cinephile. He realised, though, that the secret to selling world cinema in big numbers on disc was as much about cultivating strong relationships with key retailers as proclaiming the company's love of movies.

More significantly, Optimum had licensed The Third Man from StudioCanal, thereby starting a relationship with the French giant that would later have a huge impact on its future. "I can't say it was a struggle in the first few years, because it wasn't. It seemed so effortless after each film," reminisces Clarke.

An important early film was Alejandro Gonzalez Inarritu's Mexican drama Amores Perros. Other UK buyers shied away from it, worried the scenes of dog fighting might fall foul of the British Board of Film Classification (BBFC).
Clarke had no such compunctions. In 2001-02, the film drove Optimum's turnover past $1.6m (£1m) for the first time.

Showing his eye for unlikely winners, Clarke also picked up Studio Ghibli title Spirited Away, Optimum's first film to break through $1.6m (£1m) at the UK box office. This was one of the many films acquired from French sales outfit Wild Bunch. Indeed, it was from Wild Bunch that Optimum picked up Michael Moore's Fahrenheit 9/11 at pitch stage. The contentious political documentary went on to make more than $10.7m (£6.5m) at the UK box office.

"We thought if a million people are going to march [against the invasion of Iraq] in London, 200,000 in Glasgow and 150,000 in Dublin, there is going to be an audience for this."

For all its theatrical successes, what really propelled Optimum to the top of the UK indie market was its home entertainment business. The company was launched just as the DVD boom was beginning in earnest. In the early years, its titles were released through World Cinema, the company backed by Metro Tartan and Artificial Eye. Then in 2004 Optimum Home Entertainment was launched.

StudioCanal, which acquired Optimum in 2006 for an undisclosed sum ― rumoured to be an astonishing $35.4m (£25m) ― saw the aggressive young UK distribution outfit as the perfect vehicle to handle its DVD releases.
Optimum has been releasing DVDs at breakneck pace since. Neither Clarke nor Perkins seem too dismayed by the recent downturn in DVD revenues.

"People are being too quick to call time on DVD," the Optimum bosses insist.

Market demand is around 9% down on last year, but that is partly attributable to the disappearance of key UK retailers Zavvi and Woolworth's.

Like all its rivals, Optimum is exploring the best ways to "monetise content" online. It has made some titles available on iTunes and is wary of consumers who expect online fare for free. Clarke acknowledges that Optimum has "modified budgets" and "shaved some of the deep catalogue from our DVD release schedule". Nonetheless, in 2009, the company is still planning to release around 170 films on DVD.

"We've found that our numbers are quite robust this year compared to other companies," Clarke insists. Two years ago, anticipating the "glory days" of DVD would not last forever, Optimum partnered with Lionsgate UK to acquire home entertainment sales outfit Elevation Sales.

Clarke relishes the current turbulence in the market as the industry adjusts to the digital age. "It's like the Wild West. It's great. There are going to be huge opportunities in the marketplace. You're just going to have to be savvy enough to spot the opportunities and jump on them."

It is increasingly apparent StudioCanal did not pay millions for the company simply to have a UK outlet for its library of DVD titles. Optimum is a key part of the French major's strategy to create a pan-European distribution network that last year saw it buy Germany's Kinowelt.

And to feed its own and StudioCanal's pipeline, Optimum is becoming increasingly active in UK production. With UK acquisition rights now riding high, especially when the exchange rate is punishing sterling and TV sales are difficult to achieve, it can make more sense to produce the movies yourself, says Clarke. At the same time, moving into production is a way to establish long-term relationships with key UK talent.

"We want to be a major outlet for producers. We can provide quite a lot of financing to particular British productions. We have international sales [in Studio­Canal]. We have an attractive story to tell ― three territories [UK, France and Germany] plus the sales and a huge appetite for product," Clarke states.

Under its production head, Jenny Borgars, former Development Fund chief at the UK Film Council, and head of development Dan MacRae, Optimum is actively sourcing new projects for production, which includes scouring StudioCanal's library for remakes. "We're looking for original voices and also established names who want to make a British movie," Clarke states.

The company is pushing ahead with its 1960s-set version of Brighton Rock ― the $12m (£7.2m) drama, directed by Rowan Joffe, is due to shoot later this year. Optimum has also announced its involvement in edgy, low-budget UK drama Here Comes The Summer, the feature directorial debut of Ron Scalpello, also due to shoot later this year.

Tenth anniversary

As a distributor, Optimum covers all bases from Hollywood to low-budget UK film-making, from Asian fare to world cinema. It has an output deal with Joel Silver's Dark Castle and is also a partner in low-budget British studio Warp X. Optimum's status in the UK industry was underlined earlier this summer when the company threw a lavish 10th anniversary party in central London. Despite the backbiting common in the UK industry, its rivals seemed genuinely happy on its behalf.

Clarke acknowledges that Optimum has changed significantly since his initial business plan. "We sold the company. There are bound to be big brothers in Paris and we have to deliver the numbers for them. [But] we've retained our autonomy to make the decisions that are absolutely key to the future of the company. We've got a very good relationship with Olivier Courson [chairman of Studio­Canal] and with Romain Bessi, the chief financial officer. We feel very comfortable with all the guys there."

At its core, Clarke insists, Optimum remains a distribution company.

Everything else ― even the ambitious new foray into UK production ― is done to drive the distribution effort.
"We're not involved in production for production's sake," Clarke emphasises.

"Distribution is the locomotive for everything we do."
Will Clarke
l Born in 1971, Clarke joined the Feature Film Company in 1995, eventually becoming head of distribution.
l In 1999, he founded Optimum Releasing with Danny Perkins.
l Executive producer on Shane Meadows' Dead Man's Shoes (2004) and This Is England (2006).
l In 2006, StudioCanal bought Optimum.
l Optimum has acquired and released successful independent films including Amores Perros, Wolf Creek, Spirited Away and Pan's Labyrinth.
Danny Perkins
l Perkins began his career in film as marketing executive with Clarke at The Feature Film Company in 1997.
l On the founding of Optimum, took charge of the marketing and promotion of the company's slate.
l Now Optimum's managing director and COO, Perkins is responsible for the company's theatrical and home entertainment operations.