Dir: Joachim Lafosse. Belgium-Luxembourg-France-Switzerland. 2012. 112mins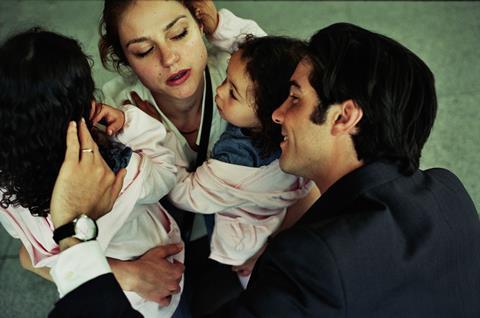 Our Children is called A Perdre La Raison in France, and viewers can quickly make the connection when its opening shots depict four small coffins being raised onto a plane bound for Morocco as a mother weeps in her hospital bed. It's immediately clear that Joachim Lafosse is about to tackle one of cinema's, and society's, last taboos, the increasing numbers of parents who murder their own small children.
Our Children isn't simply a story of a mother with post-natal depression.
Much like the old people in Michael Haneke's Love, infanticide is a problem society can't quite face in the eye, and many will prefer to pass on Our Children for just that reason. Those brave enough - this is without a doubt an emotional racking - will witness an intelligent and responsible treatment from Belgian director Lafosse, a deeply moving performance by Emilie Dequenne, and a devastating look at a young woman come undone. Our Children is not a film to be undertaken lightly, but it does nonetheless deserve to be seen. Re-teaming A Prophet's Niels Arestrup with Tahar Rahim may pique interest, but ultimately the only thing that will lure audiences to Our Children is critical support. It should be forthcoming.
Inspired by a real-life case in Belgium - although there are many similar stories worldwide that Lafosse could have chosen from - Our Children isn't simply a story of a mother with post-natal depression. It's much more oblique, and, like any family, complicated than that. Lafosse ratchets up the domestic drama to slowly force his principals into a position where the denouement - which is thankfully never depicted onscreen - is at least approaching a point where it can be understood. That's in no small part due to Dequenne's (Rosetta Stone) believably tragic performance as Murielle, a carefree young woman from a relatively poor background who falls for Tahar Rahim's charming Mounir.
Lafosse's camera discreetly observes Murielle and Mounir as they make love and marry - the director is working at their level, making his camera complicit in what transpires throughout. Moroccan-born Mounir is devoted to Dr Pinget (Arestrup), who has housed and brought him up, and, it is later made clear, also married Mounir's sister in order to give her residency papers. It's an uneasy, avuncular role that Arestrup underplays, and Lafosse holds back from making Dr Pinget alone culpable for what ultimately happens - although he holds all the financial and emotional cards.
Mounir and Murielle move in with Dr Pinget, but it's a comfortable life that comes at a price. The autocratic Pinget and Mounir are obsessed with each other, although it's not an overtly sexual relationship. They are the "we" in "Our Children". While they easily accommodate Murielle at the onset of the marriage, the claustrophobic set-up won't tolerate the four children she delivers in a short space of time. She's trapped by the incessant demands of her babies and toddlers, by Mounir's growing indifference, by her own doubts of her abilities as a mother (reinforced by the casually-bullying Pinget) and a crushing depression which he, as her family doctor, medicates.
Music plays a strong part in Our Children, most notably in Scarlatti's baroque operas, and Haydn's strings pull and peck at a 26-year-old woman and mother as she goes about her increasingly-sad life, cleaning and tending and buckling under the strain until the audience wants to look away, but Lafosse has made it his mission not to let that happen - this time.
Production companie: Samsa Film, Versus Production, Les Films du Worso, Box Productions
International sales: Les Films du Losange, www.filmsdulosange.fr
Producers: Jacques-Herri & Olivier Bronckart, Jani Thiltges, Sylvie Pialat, Thierry Spicher
Screenplay: Joachim Lafosse, Matthieu Reynaert, Thomas Bidegain
Cinematography: Jean-Francois Hensgens
Editor: Sophie Vercruysse
Main cast: Niels Arestrup, Tahar Rahim, Emilie Dequenne, Baya Belal, Stephane Bissot, Nathalie Boutefeu