If 20th Century Fox regretted the co-financing alliance it made with Paramount Pictures on Titanic, splitting distribution rights and the pot on what would go on to become the biggest film of all time, it was not going to make the same move on Avatar.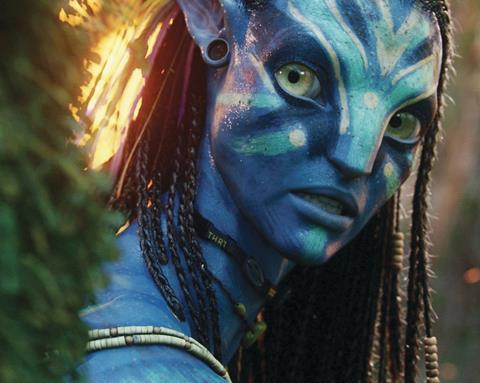 This film was even more costly than Titanic – the official studio budget figure is $237m but speculation has put the number at some millions higher, probably around $280m. Cameron freely admits that over the course of the half-decade in which the film was in preparation, the budget was re-evaluated on a number of occasions. To finance an enterprise of this scale, Fox needed partners and it secured them in longtime hedge-fund partner Dune Capital Management and the UK's Ingenious Film Partners.
While Fox remained tight-lipped on Avatar's financial structure, Screen's analysis of the figures in consultation with industry experts suggests that Dune and Ingenious covered around $168m of the budget. Per Dune's ongoing deal with Fox, it finances up to 60% of the budgets. Assuming a 15% return on their investment, Dune and Ingenious between them would receive a combined $25.2m on top of their investment.
For the purposes of this analysis, we have assumed a global p&a spend from Fox of $150m, bringing Fox's own exposure to some $272m. The marketing spend was obviously maximised by four key global promotional partnerships with McDonald's, LG Electronics, Coke Zero and Panasonic, which spent millions more worldwide.
We estimated that final domestic box-office grosses going through May would reach more than $777m based on successive 20% drop-offs. Numbers are predicated on the assumption Avatar will hold its own on the world's 3D screens at least until Disney's Alice In Wonderland hits on March 7 and then IMAX: Hubble 3D from Warner Bros and DreamWorks Animation's How To Train Your Dragon later in the month.
International is projected to finish close to $2bn, bringing the worldwide total to $2.77bn. Our expert sources suggest that projected gross ancillary revenues would generate a further $800m worldwide from DVD and $200m from TV sales.
So what does Fox get back? Take the projected $2.77bn final global gross and subtract the $280m negative, the $25.2m return on investment to Dune and Ingenious, the $150m p&a, roughly half of $388m of domestic gross revenue to exhibitors, and a little more than half of $1.15bn of international gross to exhibitors (this is always higher than the domestic element due to taxes and VAT) and the result is approximately $775m.
Then take away a further $225m paid to Cameron, most likely the only person to get a cut of the revenue that conservatively would fall in the 10%-15% range. That leaves $552m. Add in approximately $450m from net worldwide home entertainment revenue and $100m from net worldwide TV revenues and Fox's resulting profit from Avatar is just over $1.1bn. In addition, the experts estimate Fox would get $325m in distribution fees across all platforms, resulting in over $1.425bn in revenue back to Fox on their initial investment of approximately $272m.
These estimated figures are simplified of course and do not purport to be the final word on the subject. But according to several sources with knowledge of studio financing, they are a good 'best guess' given the variables and unknown elements that permeate the equation.
It is a dream result for a movie studio, of course, and one that happens once in a blue moon, but it sets a benchmark for the scale of revenues and profit that studios and, more importantly, their parent companies are seeking from their movie investments. The smaller numbers from smaller movies are just not worth the trouble.
Screen showed the above figures to Fox and asked it to verify, rebut or add its own calculations. We knew that it was unlikely a studio would break out final profit figures based on lifetime projected grosses. As expected, Fox declined to comment.