Dir: Hans Van Nuffel. Belgium-Netherlands. 2010. 98mins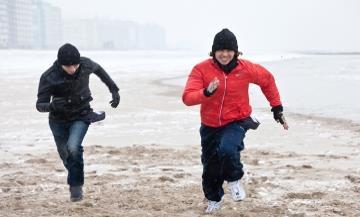 Refreshingly unsentimental and modestly inspirational, Oxygen (Adem) is an impressively made tale about two young men trying to embrace life despite illness dragging them down. It is touching, harrowing and even gently romantic at times and likely to be a fixture at discerning film festivals.
Debut director Hans Van Nuffel does an excellent job at keeping the film nicely unsentimental.
Despite being a harder sell to formal theatrical distribution – lack of name talent, bleak backdrop and rather vague title will be problematic – it is likely to attract festival awards and likely further interest.
Tom Van Dam (Stef Aerts) and his older brother Lucas (Maarten Mertens) both suffer from cystic fibrosis and spend most of their time at hospital, and while wheelchair-bound Lucas is optimistic about the chances of a lung replacement, Tom chooses to be more rebellious, hanging out around the wards with his band of slacker pals.
At hospital Tom meets Xavier (Wouter Hendrickx), who suffers from the same disease, but once had a cool job as an underwater photographer, drives a Porche and has a sexy girlfriend (Marie Vinck). The pair bond – and in once splendid scene race each other in hospital electric cars in the basement corridors – and Xavier inspires Tom with his passion for life.
Tom forms a relationship of sorts with Eline (Anemone Valcke) who is quarantined at the hospital (the pair share a kiss against the glass partition of her hospital room), while in an act of rebellion Tom and Xavier sign out of the hospital and head to the wintery beach.
Naturally enough – and at heart Oxygen has still 'movie illness of the week' elements - things get bleaker and harsher, with Tom and Xavier reunited as friends some years later back at hospital.
Aerts and Hendrickx are impressive as the two young men bonded through a shared illness, while debut director Hans Van Nuffel (and co-scriptwriter) does an excellent job at keeping the film nicely unsentimental but also punctuating the film with moments of humour, drama, romance and pathos.
Production companies: A Private View, Lemming Film
Sales contact: www.aprivateview.be
Producers: Jean-Claude van Rijckeghem, Dries Phlypo
Co-producers: Joost de Vries, Leontine Petit, Marleen Slot
Screenplay: Hans Van Nuffel, Jean-Claude van Rijckeghem
Cinematography: Ruben Impens
Editor: Alain Dessauvage
Music: Spinvis & Geike Arneaert
Website: oxygenthemovie.com
Main cast: Stef Aerts, Wouter Hendrickx, Marie Vinck, Anemone Valcke, Rik Verheye, Maarten Mertens