Dir: Guillermo del Toro. Spain / Mexico.2006. 112 mins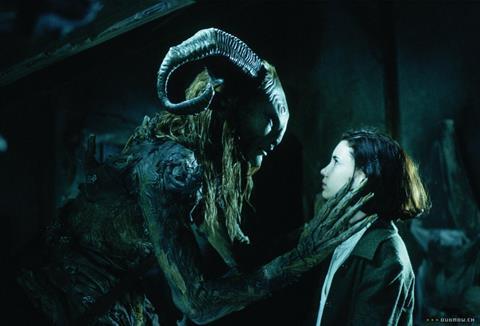 A longcherished project of writer/director Guillermo del Toro, Pan's Labyrinth revisits a fascination with fantasy and the fight against fascism thatare central to his ghost story TheDevil's Backbone (2001) and his comicbook adaptation Hellboy (2004).
The creatures and the fantasy world are by far the most beguiling side of the film
Here, itis a young girl who seeks refuge from the horrors of the real world in anelaborate quest involving magical creatures and dangerous tasks.
This darkly attractive film has a painterly quality to its visual look and someimpressively elaborate animatronic effects that will delight genre fans.
There should be a clear attraction for devotees of the Harry Potter series but it may be difficult to clearly define the audience for a filmthat is too sophisticated in its themes and extremely violent for Potter familyviewers and a little too familiar in its narrative for more adult viewers.
Fantasyregulars and del Toro admirers should still be sufficient to generate aninternational success.
Set in Spain in 1944, the film is a modern fairytale in which the young Ofelia (IvanaBaquero) is a latterday Alice In Wonderland.
She accompanies her pregnant mother Carmen (Ariadna Gil) to the countryside whereher stepfather Vidal (Sergi Lopez) is a captain in Franco's army.
Vidal isdetermined to rid the area of guerrilla resistance and ensure the birth of ason and heir.
Lookinglike Bela Lugosi and acting like Conrad Veidt in some wartime thriller, Lopezmakes Vidal an easy figure to hate.
He isruthless, sadistic and apparently a man without conscience or soul. The book-lovingOfelia is only too happy to visit a local labyrinth where she meets Pan (DougJones) a creature who claims that she is the long lost princess of a magicalkingdom.
In orderto prove her worth, she must complete three dangerous tasks.
The girl'ssecret life confronting scary toads and mythical monsters finds parallels inthe real events as Vidal wages war on the local resistance fighters and allthose who seek to assist them.
Filmedon cleverly designed and detailed sets, using very little in the way of digitaleffects, Pan's Labyrinth has the rich feel of an old-style studio productionwhere the manipulation of light and shadow create a dark, treacly atmosphere ofmenace.
Creatureslike Pan, buzzing little fairies and the Pale Man (who has eyes in the centre of his palms) bring something original andoffbeat to typical fantasy staples.
Mimeartist Doug Jones, a del Toro regular, really lends a sense of character andindividuality to the creatures, especially the charming but deadly Pan.
The creatures and the fantasy world are by far the most beguiling side of the film whilst the tale of heartless military martinets, clandestine meetings andrustic underdogs feels much more conventional.
Lopez is the star attraction but does not overshadow the delicate determination of Ivana Baquero as the resolute Ofelia or the dignified heroism that Maribel Verdu brings to the role of Vidal's housekeeper and secret rebel sympathiser Mercedes.
To sign up for Screen's weekly Reviews Newsletter with all the week's new releases, international openings and full festival reviews delivered free to your mailbox every Friday, please click HERE.
Director/Screenplay
Guillermo del Toro
Production company
Estudios Picasso/Telecino
Tequila Gang
Esperanto Filmoj
International sales
Wild Bunch
Producers
Bertha Navarro
Alfonso Cuaron
Frida Torresblanco
Alvaro Augustin
DoP
Guillermo Navarro
Prod des
Eugenio Caballero
Ed
Bernat Vilaplana
Mus
Javier Navarrete
Main cast
Sergi Lopez
Maribel Verdu
Ivana Baquero
Doug Jones
Ariadna Gil
AlexAngulo