Dir/scr: Peter Landesman. US. 2013. 95mins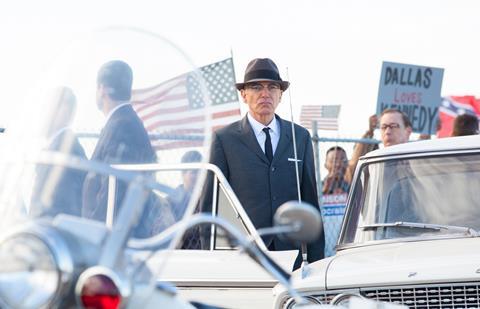 Chronicling the unlikely witnesses to one of the worst chapters in American history, Parkland dramatises the 1963 assassination of President John F. Kennedy through the perspective of Secret Service agents, local doctors and even the man whose 8mm camera captured the killing on film. It's an intriguing way to bring fresh intimacy to a well-known event on the occasion of its 50th anniversary, but unfortunately writer-director Peter Landesman's treatment proves both melodramatic and undernourished, although this ensemble piece is grimly compelling throughout.
Cinematographer Barry Ackroyd, Oscar-nominated for The Hurt Locker, does a fine job shooting Parkland in desaturated colours that aren't overly showy, nicely mixing new scenes with archival footage and fabricated period footage.
Premiering at the Venice Film Festival before an October 4 launch in the US, Parkland will cater to history buffs, and a cast that includes Paul Giamatti, Billy Bob Thornton and Zac Efron is certainly hoping to wrangle several generations of filmgoers. The recent success of Lee Daniels' The Butler suggests a sizable adult audience for American history seen through the eyes of ordinary citizens, and the success of the far more sensationalistic JFK from 1991 argues that there's always interest in a closer look at Kennedy's assassination. But a lack of full-throated critical praise may hurt the low-budget film's awards chances, which may in turn limit its theatrical prospects.
Based on Four Days In November, Vincent Bugliosi's 1,600-page examination of the Kennedy assassination, Parkland stays largely away from that day's central figures to focus on the average Americans swept up in events. This includes two doctors (Efron, Colin Hanks) at the Dallas hospital where Kennedy was brought after being shot, the Dallas head of the Secret Service (Billy Bob Thornton), and Abraham Zapruder (Giamatti), a local businessman who decided to start filming Kennedy's motorcade just minutes before the president was killed.
Spanning only a few days, Parkland seemingly takes a page from United 93, another fact-based, stripped-down drama about a horrible chapter in American history — in that case, the 9/11 terrorist attacks. Like that film, Landesman's story strives for a you-are-there authenticity, hoping in the process to remind the audience what the shock of that terrible day must have felt like as it was happening.
In its early stages, Parkland promises to be a sober, almost clinical recounting of the events, offering minute-by-minute detail of precisely how these participants reacted to a situation they could have never envisioned would occur. As the film demonstrates, the chaos resulting from Kennedy's murder generated plenty of unimaginable questions. For instance, does Texas state law trump the Secret Service when the Dallas coroner asserts that Kennedy's body cannot be removed until an autopsy is conducted? And where is the proper place to put a coffin on the president's plane? Preferring a reserved manner initially, Parkland lets the confusion, anguish and high emotions speak for themselves, resulting in nicely understated drama.
A former journalist, Landesman makes his directorial debut here, and Parkland is helped by the no-nonsense authority of several of his cast members, especially Giamatti who's quite touching as Zapruder, an ordinary man whose sadness at the death of the president must quickly fall by the wayside after he confronts the warring demands (from both the press and the government) for his footage of the assassination.
Unfortunately, as Parkland moves along, the filmmaker becomes more interested in the story's individual personalities, which is only partly successful. In a sense, this inclination is understandable since many of the actors are playing the actual people who were there in 1963. But while Giamatti brings Zapruder to life in only a few scenes, too many of the other characters are drawn broadly to compensate for their lack of screen time. Or in the case of Ron Livingston's dutiful FBI agent, a melodramatic subplot, although based in fact, is allowed to send the film onto an unprofitable tangent. Likewise, although James Badge Dale brings considerable pathos to his role as Robert Oswald, the stunned brother of assassin Lee Harvey Oswald, his narrative thread plays out rather predictably, straining for emotional catharsis that it doesn't quite achieve.
With that said, cinematographer Barry Ackroyd, Oscar-nominated for The Hurt Locker, does a fine job shooting Parkland in desaturated colours that aren't overly showy, nicely mixing new scenes with archival footage and fabricated period footage. Especially at the outset, the almost documentary-like treatment of Kennedy's death and aftermath is gripping in its restraint, but Landesman's desire to expand his story — both in terms of subplots and emotional sweep — ultimately undercuts the impressively steely early reels.
Production companies: Exclusive Media, The American Film Company, Playtone
International sales/US distribution: Exclusive Media, www.exclusivemedia.com
Producers: Tom Hanks, Gary Goetzman, Bill Paxton, Nigel Sinclair, Matt Jackson
Executive producers: Guy East, Brian Falk, Joe Ricketts, Steve Shareshian, Ginger Sledge
Cinematography: Barry Ackroyd
Production design: Bruce Curtis
Editor: Leo Trombetta
Music: James Newton Howard
Website: www.parkland-themovie.com
Main cast: James Badge Dale, Mark Duplass, Zac Efron, Jackie Earle Haley, Colin Hanks, David Harbour, Marcia Gay Harden, Ron Livingston, Austin Nichols, Jeremy Strong, Billy Bob Thornton, Jacki Weaver, Tom Welling, Paul Giamatti