Dir/scr: Brian De Palma. France-Germany. 2012. 97mins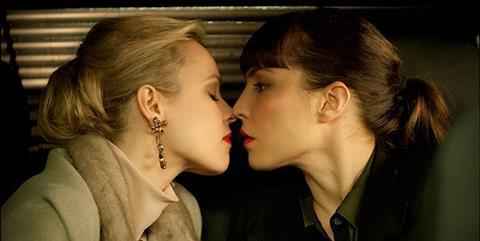 The erotic thriller turns limp in Brian de Palma's latest take on the genre, where even the sexual decadence is of the clichéd lace and carnival-mask variety, and the high-profile casting of Rachel McAdams and Noomi Rapace in the two main roles works a lot better on paper than it does in practice. Returning to the territory of Dressed To Kill and Body Double, the veteran US director finds surprisingly little to add to his source material, the late Alain Corneau's final film, Love Crime, about the sexually-charged rivalry between a female boss and her protégée.
The film picks up a little when the murder mystery kicks in, but it's only a brief respite.
Fumbling the halfway-point genre-shift that is managed so effortlessly in the French original, De Palma glues together what feel like two different films in the remake: a female rivalry drama-thriller, and a murder mystery. And although the exercise carries an undertow of tongue-in-cheek pastiche, this is so inconsistently applied that if feels like an escape clause.
Made entirely with European money, the film is set mostly in Berlin, with dialogue predominantly in English. Given the woodenness of some of the latter, however (which provoked bursts of laughter at the film's Venice press screening), this will not necessarily be a plus in Anglophone territories – in fact dubbing and subtitling could do Passion a service. In the right mood, Passion could conceivably do service as the kind of good bad film that works for dates and DVD-rental pizza parties – so what it loses on theatrical it may make back via auxiliary.
Whereas Kristin Scott-Thomas and Ludivine Sagnier fully inhabited their roles as domineering boss and sexy, ambitious but fragile underling, McAdams and Rapace never really convince as rich, manipulative and self-assured advertising executive Christine and talented but rather innocent and insecure junior manager Isabelle. McAdams is better though at catching the playful, parody element in her role, something that Rapace, who is all intensity, seems to struggle with.
Christine, who lives in an apartment that comes across as a tad too brash and flashy for her character, likes tastefully kinky sex with rough-edged boyfriend Dirk (Paul Anderson) and, it soon becomes clear, with other men. But she's also turned on by power, and is not afraid to swing both ways by turning her power over Isabelle into a sexual game. Isabelle, however, is playing her own games – giving in willingly to Dirk's advances while on a London business trip and, with the help of her loyal personal assistant Dani (Herfurth) – a lesbian who is secretly in love with her boss – turning the tables on Christine after Christine takes credit for a well-received ad campaign idea of Isabelle's.
With little of the female attraction-repulsion chemistry of Corneau's film or, say, Black Swan, Passion stretches our credibility as it shifts unexpectedly into murder mystery territory. And the script is just plain lazy at times – a case in point is a long, static car-park scene in which Isabelle gets a phone call from Dirk: little useful dramatic information is conveyed here, at great length. Equally, a sequence which uses split-screen to juxtapose a ballet Isabelle is watching (Debussy's Afternoon of a Faun) with Christine's evening at home is a waste of the technique, as there is little dramatic or thematic connection between what we see on each side of the split.
The film picks up a little when the murder mystery kicks in, but it's only a brief respite. Lighting and cinematography shift us into darker territory as the film progresses, while Pino Donaggio's soundtrack, with its nods at seventies and eighties Italo genre fare, does its best to give the film an ironic sheen in never really merits.
Production companies: SBS productions
Co-production: Integral Film, France 2 Cinema
International sales: Wild Bunch, www.wildbunch.eu
Producer: Said Ben Said
Cinematography: Jose Luis Alcaine
Editor: Francois Gedigier
Production designer: Cornelia Ott
Music: Pino Donaggio
Main cast: Rachel McAdams, Noomi Rapace, Karoline Herfurth, Paul Anderson, Rainer Bock