Dir: David Mackenzie. UK. 2011. 88mins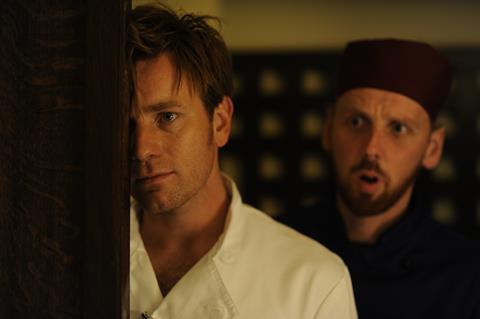 If Jose Saramago's Blindness imagines an epidemic that steals humanity of its sight, David Mackenzie's new film goes one step further, envisioning a mysterious pestilence that successively removes each one of our senses, one by precious one. This haunting, taut and moving sci-fi drama about what it means to love and be human has the potential for strong global appeal. While its bleak concept will limit a wider reach in cinemas, it should have a long and healthy life in ancillary markets, both in the US and internationally.
Danish screenwriter Kim Fupz Aakeson's clever apocalyptic conceit makes for great drama.
Mackenzie, director of such sensualist dramas as Young Adam and Asylum, uses the premise not just to explore our various senses, but as a way to observe the unfolding romance between Michael, a chef (Ewan McGregor), and Susan, an epidemiologist (Eva Green). As the disease gets more intense, so, too, does their relationship, and with each passing sense, the characters grow closer. Their love affair makes up the film's heart; and while it's never plumbed with too much depth—the film is a concise 88 minutes, after all—there's still enough of a bond created between them to carry the emotional weight of the film.
More broadly, Danish screenwriter Kim Fupz Aakeson's clever apocalyptic conceit makes for great drama. Each sensual loss is first accompanied by a related emotion. For example, before the afflicted lose their ability to smell, they are overwhelmed with grief. A voice-over narration, as spoken by Green's even-keeled doctor, explains the link between smell and the memories of loss and regret humanity will no longer access without it.
"An ocean of past images disappears," she says, while Mackenzie inserts a montage of random snapshots depicting people from around the world. Later, victims experience insatiable hunger before losing their sense of taste. And so on. As time goes by, suspense builds as to which or what sense may be next, and what horrible or blissful feeling will precede it.
The connected symptoms may not make much sense from a medical perspective, but they allow McGregor, Green and the film's other talented actors (Stephen Dillane) as well as random bystanders and strangers, only briefly glimpsed on screen, to act out a range of emotions with conviction and intensity. Michael and Susan's first intimate encounter occurs among a flurry of tears and sorrowful embraces. Towards the end of the film, McGregor unleashes a disease-fueled torrent of fury that briefly separates the two lovers.
The film's technical aspects are strong. Mackenzie's regular cinematographer Gilles Nuttgens creates some beautifully blown-out images; hazy, white natural light seems to flow into every frame, creating an otherworldly illumination. The musical score by Max Richter (Waltz With Bashir) is also deeply evocative, heightening the proceedings with plaintive piano-driven compositions.
Production companies: Sigma, BBC Films, Zentropa Entertainment, Scottish Screen
International sales: TrustNordisk, www.trustnordisk.com
Producers: Gillian Berrie, Malte Grunert
Executive producers: James Laurenson, Peter Aalbeck Jensen, Peter Garde, Tomas Eskilsson, Carole Sheridan, David Mackenzie
Screenplay: Kim Fupz Aakeson
Cinematography: Giles Nuttgens
Production designer: Tom Sayer
Editor: Jake Roberts
Music: Max Richter
Main cast: Ewan McGregor, Eva Green, Ewen Bremner, Stephen Dillane, Denis Lawson, Connie Nielsen