Shooting wrapped this week on Eran Riklis' first film to be shot in Germany, a drama inspired by the life of Israel's most famous basketball coach Ralph Klein.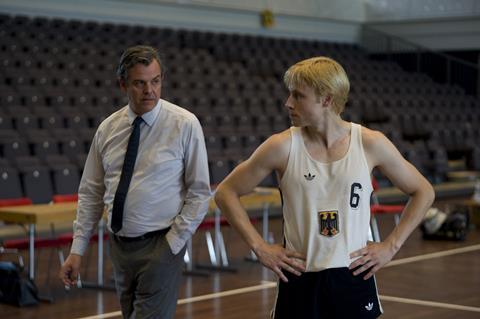 Playoff
Synopsis: Basketball coach Max Stoller becomes a national hero when he makes Maccabi Tel Aviv into European champions in the late 70s. But he becomes a national traitor equally as fast when he then accepts the offer to train the West German team.
Director: Eran Riklis
Writer: Gidi Maron, David Akerman, Eran Riklis
Producers: Jens Meurer for Egoli Tossell Film AG, co-producing with Marc Missonier and Olivier Delbosc for Fidélité Films and Michael Sharfstein for Topia Communications
Cast: Danny Huston, Max Riemelt, Hanns Zischler, Amira Casar, Mark Waschke
Budget: € 5.3m
Financing: HessenInvestFilm, MFG Baden-Württemberg, Eurimages, German Federal Film Fund (DFFF), German Federal Film Board (FFA), German-French Film Agreement (mini-traité), and the Rabinovich Foundation
International Sales: Elle Driver and Wild Bunch S.A.
Language: English, German, Hebrew, Turkish
Locations: Frankfurt and Wiesbaden, Lake Constance
Shoot dates: June 29 – August 12
Status: Post Production
"The French company Fidélité had been discussing working with us for some time and then pitched us this project by Eran Riklis," recalls Egoli Tossell Film's Jens Meurer about how Playoff became a German-French-Israeli co-production. "We knew of Eran's work because our distribution company Timebandits had released his film The Syrian Bride in Germany."
"It didn't take long for me to agree to be the director because the story had all of the elements which interest me," Riklis says. "It's about the individual as well as a social and political situation. Plus, personally, the story had a wider scope taking me away from the Israeli-Palestinian conflict and letting me walk into a different culture."
This project marks the first time Riklis has shot a film in Germany - and the second time he has worked outside of Israel after going to Romania for his last feature The Human Resources Manager which had its world premiere on Locarno's Piazza Grande this week – and the third time he has worked with Swiss-born DoP Rainer Klaussmann.
"I feel very comfortable here," the director says about shooting in Wiesbaden and Frankfurt, noting that "there's no real difference from working in Israel. I think we have the right balance of locations, combining with the relative calmness of Wiesbaden and the bustle of the big city setting in Frankfurt."
The Euros 5.3 million film is the first production the Berlin-based Egoli Tossell Film has shot in the federal state of Hesse. Among the various funders including Eurimages, the German Federal Film Fund (DFFF) and the Tel Aviv-based Rabinovich Foundation, Playoff was awarded Euros 1 million production support HessenInvestFilm., the highest amount ever allocated to a single project by the Frankfurt-based regional film fund .
"Almost 100% of the shoot is in Hesse and we have found the right kind of locations to recreate the late 1970s and early 1980s." Meurer explains. "In addition, we are working together with the Frankfurt Maccabee basketball team which originates from the late 1970s, and some of the players will be appearing in the scenes of basketball matches."
Turning to the casting of Danny Huston, Hanns Zischler, Max Riemelt, Mark Waschke in the lead roles, Riklis recalls that they were all his first choices for the parts and create "a fascinating mix between European cultures and American professionalism. All of the German cast blend wonderfully, and I always thought that Max Stoller should be played by a non-German because he has to be a bit different."
Next up: Egoli Tossell Film's next project is Katja von Garnier's adaptation of the first of the three Francois Lelord bestselling Hector's Journey novels, which will be shot at locations in Germany, China, France and South Africa, as a co-production with Warner Bros. Entertainment Germany.