The growth of a multiplex market and the expansion of digital cinema show India's potential. But there are still hurdles along the way, reports Udita Jhunjhunwala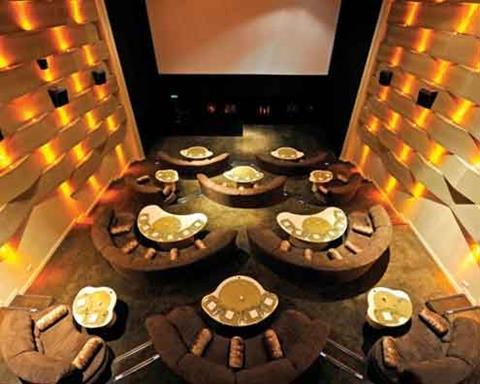 India got its first multiplex in 1997 when PVR opened a four-screen cinema in Delhi. Subsequent expansion has been swift, with the number of multiplex screens in India reaching more than 800 across 50 cities.
The business is dominated by local players Inox, PVR, Cinemax, Big Cinemas, E-City, Sathyam and Pyramid Samaira. While single-screen cinemas dominate smaller towns where local content is most popular, the multiplex market has greater penetration in cities where disposable income is higher and can match the average ticket price of $3 (rup150), as opposed to the average single-screen ticket price of $0.75-$0.90 (RUP35-RUP40).
The multiplex boom has had a significant impact on Indian filmmaking and film consumption. Over the last decade, India has seen the birth of a new genre of 'multiplex movies' — independent films without marquee names aimed at sophisticated audiences looking for variety. "The growth in the multiplex business is coming from India's favourable demographic profile and fast-growing consumer class," says Anil Arjun, CEO of Reliance MediaWorks which owns Big Cinemas. "In tier 2 cities, there is sufficient spending ability and our experience shows there is a promising uptake — a 100% increase in pricing is acceptable."
Siddharth Roy Kapur, CEO of UTV Movies, adds a caveat. "The business is receptive to high ticket prices but operators need to understand that all movies cannot be priced the same." For multiplexes, Bollywood tentpoles are the primary revenue earners, followed by Hollywood tentpoles. Hollywood films contribute only 5%-7% to the total Indian box office with multiplexes accounting for nearly 70%-75% of revenues of Hollywood films. The bulk of ticket sales come from three major cities: Mumbai, Delhi and Bangalore.
"Almost 95% of the Indian box office is driven by local content and is not dependent on Hollywood."

Raja Enok, Real Image
With Hollywood films increasingly being dubbed into local languages and 2k DCI-compliant cinema expanding, penetration of Hollywood films is expected to increase. Sanjeev K Bijli, joint managing director of PVR which operates 136 screens across India, says: "It's important to get the right location in the right city. With the way towns and cities are expanding, there is growth potential for accessible multiplexes."
However, barriers to growth include high lease rental costs, infrastructure, entertainment tax — which varies across Indian states and is as high as 40% in some places — and high import duties on equipment and bureaucracy. On average, a multiplex requires 40 licences to begin operations. The cinema industry is controlled at state level, which means regulations differ across the regions. Some states, such as Tamil Nadu, regulate ticket prices.
The cost of multiplex tickets, which can reach $16 (rup750) for a luxury screen, are proving to be a deterrent to consumers. But multiplex operators cite high operational costs and the 50% revenue-sharing agreement with distributors as justification for the price structure.
Digital potential
With its expanding multiplex market, India is also seeing an increase in DCI-compliant digital screens. Scrabble Entertainment, one of the integrators in the rollout, has 185 screens across 61 sites in 21 cities.CEO Ranjit Thakur says the company plans to install another 150 by March 2011. "The dubbing of Hollywood films is encouraging tier 2 cities to get 3D systems," he says. "Avatar, Shrek and Toy Story 3 set a benchmark."
E-cinema — a cheaper alternative which uses 1.3k projection — is much bigger in the Indian market and is led by Real Image and UFO Moviez. Raja Enok, chief marketing officer of Real Image which has almost 1,200 e-cinemas, says he is not worried about d-cinema. "Almost 95% of the Indian box office is driven by local content and is not dependent on Hollywood. Digital cinema will grow as it becomes more affordable but e-cinema is a fraction of the cost and will also continue to grow."
Sanjay Gaikwad, founder and managing director of UFO Moviez, which operates close to 2,000 screens in 1,900 locations across India, agrees. "Of the 7,000-7,500 functional screens, 50% have converted to digital. Around 75% of Bollywood digital releases are on UFO with our theatres contributing 30%-40% of box office," he says.
However, with the rising popularity of Hollywood films, US studios are confident DCI-compliant digital will grow. Vivek Krishnani, head of distribution, marketing and syndication at Fox Star Studios India, says: "We'll see a growth in d-cinema. The reach has widened but we'd be happy to see even more DCI-compliant screens."
Multiplexes in India 2009-10
| | | | | |
| --- | --- | --- | --- | --- |
| COMPANY | Sites | Screens | Seats | Cities |
| BIG Cinemas | 101 | 259 | 95,030 | 80 |
| PVR | 32 | 136 | 34,787 | 18 |
| Inox | 35 | 132 | 37,157 | 24 |
| Cinemax | 30 | 97 | 26,327 | 17 |
| Fame | 25 | 95 | 26,575 | 15 |
| Fun | 24 | 83 | 23,223 | 19 |
| DT | 6 | 26 | 5,348 | 3 |