Dir/Ed/Mus: Ivan Noel. Spain. 2010. 101mins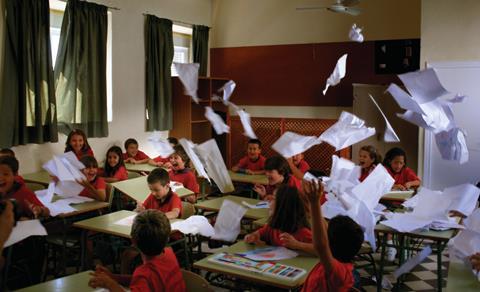 The realistic schoolroom drama is a well-told tale, and while Spanish variation Primary! Is not without a certain charm it never completely ticks all of the right boxes as it tries to blend idiosyncratic teachers, new ideas and willful children into a story that completely makes sense.
Director Ivan Noel apparently taught art for a year to a class of seven year-olds in order to write the script.
The film – which world premiered in competition at the Tokyo International Film Festival – opens intriguingly enough as the headmistress interviews new primary school art teacher Jose Maria (Francisco Alfonsin, who also co-scripted with director Ivan Noel), and reads through his CV with long list of degrees, published works and commendations, more than a little bemused why he should want to work in her small Seville school.
Through skills never completely clearly shown in the film he manages to win over class 3D to the joys of art (maybe it is his T-shirt with a picture of Picasso with a red clown's nose) and before long the wee ones are churning out charming artwork, with even hyperactive youngster JJ (Jose Joaquin Mena) showing a marked improvement.
There is a little drama within the teaching department as veteran teacher Angustias is fired – 27 years at the school and desperate to stay – after her continually shows no interest in her work. Another teacher launches into a long monologue as to why she shouldn't be fired…but as far as the film show us she was bitter, cold and rather nasty – why should she be kept on.
It comes as no dramatic surprise that Jose Maria is handed the end-of-term school play duties (to be based on Norse myths, which offers a few moments of modest humour), but the film drifts to a vaguely upbeat ending, with Jose Maria apparently starting a relationship with hyperactive JJ's mother.
All of the children are pretty impressive as they go through their schoolroom rituals with honest enthusiasm, while by the same token the grown-up cast members are also fine. Director Ivan Noel apparently taught art for a year to a class of seven year-olds in order to write the script, and then reenacted the exact scenes with the same students in the same classroom.
As no-budget films go Primary! Is interesting and worthy…just not overly original or well enough structured to convince.
Production company: Noel Films
Producers: Ivan Noel, Dan Uneken
Executive producer: Gerald Herman
Screenplay: Francisco Alfonsin, Ivan Noel
Cinematography: LaeFaneo Corrochano, Juan Luis Galan, Albi Rios Barba
Main cast: Francisco Alfonsin, Jose Joaquin Mena, Eva Rubio, Maica Sanchez, Mercedes Suarez Aller, Charo Urbano