Australia's generous producer offset incentive is giving local film-makers a major boost, with a range of ambitious projects in the pipeline. But films with foreign elements are at the mercy of a shadowy discretionary system which is causing controversy, reports Sandy George.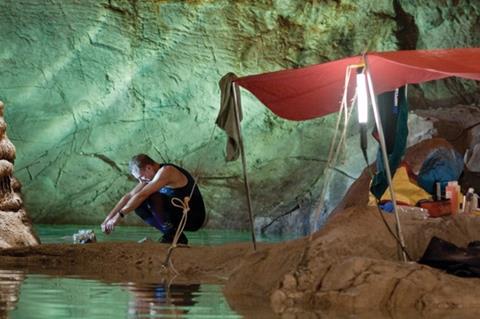 It may be a little premature to say that Australia's producer offset (PO) has revolutionised production in the territory, but a glance at the films being made in Australia highlights the major impact the generous tax rebate is ­having. With considerable scale and commercial ambition, they are towards the top end of Australia's usual budget range and have attracted overseas partners and finance.
On Queensland's Gold Coast, Alister Grierson has just wrapped the 3D action thriller Sanctum, financed by Wayfare Entertainment in the US and executive produced by James Cameron. In Melbourne, Fred Schepisi is in production on the privately backed drama The Eye Of The Storm while Gary Mc­Kendry's action thriller based on Ranulph Fiennes' The Feather Men, from the Omnilab Media stable, is gearing up. In Adelaide, director/producer Mario Andreacchio is in post on family adventure The Last Dragon, a co-production between Andreacchio's AMPCO Films and China's Zhejiang Hengdian Films Production Company which shot in China.
In Sydney, Zack Snyder is making the 3D CGI adventure fantasy Legend Of The Guardians: The Owls Of Ga'Hoole, a joint venture between Warner Bros and Sydney-based production house Animal Logic, while George Miller is making Happy Feet 2 in 3D, also a joint venture between Warner Bros, Village Roadshow Pictures and Kennedy Miller Mitchell. The director is also reportedly gearing up for another Mad Max picture. Meanwhile Pirates Of The Caribbean writer Stuart Beattie is in post on his directorial debut, Tomorrow: When The War Began, financed by Screen Australia and Omnilab Media.
Introduced nearly three years ago, the PO is a 40% offset that can be claimed on films that qualify as Australian under Screen Australia's rules and meet a minimum $0.9m (A$1m) qualifying expenditure threshold. The PO is claimed through the tax system on qualifying Australian production expenditure and on the completion of a film provided it has a local distributor attached. Financing, insurance and certain other costs don't count so actual claims are usually 33%-36% of the budget for films wholly made in Australia. Payments are uncapped: the reported rebate for Baz Luhrmann's Australia was $36.8m (A$40m).
Local producers benefit from knowing they will get back a big slice of their Australian expenditure. The PO is regarded as producers' equity so they also get a share of any revenue stream ― provided they don't trade it off to secure investors ― helping production companies stay viable.
"Without the producer offset, we would not be making the film at this scale," says producer Zareh Nalbandian of Guardians. Andreacchio says The Last Dragon would not have been made at all without the PO. The same applies to The Eye Of The Storm, says Gregory Read, one of its producers.
"I am a huge supporter," says Robyn Kershaw, producer of Rachel Perkins' hit musical comedy Bran Nue Dae, which has grossed $6.7m (A$7.3m) locally since its release earlier this year. "There will be a different kind of film coming out of Australia because of a drive to understand and connect with audiences… It also means greater rewards. I feel like I've earned one cent an hour for the last four years."
However, there are issues for films with foreign elements. What constitutes an Australian film is determined by a "significant Australian content" (SAC) test, administered by a division of Screen Australia. This takes into account factors including subject, ­locations and the nationality and domiciles of key creatives and actors.
The flexibility of the SAC test is at the heart of whether the PO can continue to attract significant overseas financing. One of Australia's most successful film-makers, George Miller, complained bitterly when Justice League Mortal did not go into production after it looked unlikely to qualify, and Australia's Alex Proyas was bewildered when his Summit-backed Knowing ― shot in Melbourne ― was refused a provisional certificate but got a final. Secrecy provisions in the Tax Act mean Screen Australia can't comment on its decisions. So far a key determinant seems to be whether Australians are heavily involved in development, but financiers are wary of investing in films that aren't wholly Australian.
The Australian certification process is also creating problems for some. Australian producer Andrew Wight's provisional certificate for the $27.6m (A$30m) Sanctum was not enough proof for bankers and financiers that 40% of the expenditure would be returned, he says. It took the weight of executive producer James Cameron to convince them.
Wight says the "legal fees would pay for a modestly financed Australian film"; Cameron told him the film was harder to finance than Avatar. "There is too much discretion and uncertainty; there has to be something quantifiable such as a points test," he says. "Sanctum is 100% financed from offshore. At this level film-making is serious business… Little films occasionally break out and that's terrific but you cannot build an industry on it."
Will French, who is planning to set up an Australian arm of his US company Film Production Capital to cashflow the PO and provide gap, agrees provisional certificates need improvement. On the cashflow issue, he says, Australian banks are ultra-conservative. "The PO has not caught on with US producers yet," he says. "The ones talking about it are the ones who have other connections to Australia. Until there is an increase in the location offset rate [a separate 15% rebate for foreign films shooting in Australia] and the dollar-to-dollar ratio, we won't see others start to take notice."
Concerns that a glut of US pictures would be dressed up as Australian to access the PO have faded. Goalpost Pictures producer Rosemary Blight was inundated with unsolicited scripts when the PO was announced, but says that when she was pitching to 30 US executives late last year not one pushed scripts at her. She sees the biggest issue as the strength of the Australian dollar.
Screen Australia
In addition to the PO, Australia has direct subsidies for features ― worth about $23m (A$25m) annually ― but the new national film body that delivers them has been in disarray since taking charge in mid-2008. It was inevitable that the transition to Screen Australia would not be smooth: along with the problems of combining three agencies into one body, there was a change of government before the amalgamation could be implemented, and new chief executive Ruth Harley only arrived in November, five months after Screen Australia's doors opened.
Harley emphasises that the agency has less money for feature film investment than the previous agencies combined. So far in the 2009-10 financial year, 17 features have accessed $23.5m (A$25.5m) for production. One or two more films may score investment before July 1 ― the per-project cap falls from $2.8m (A$3m) to $2.3m (A$2.5m) on July 1. In 2006-07, in comparison, the Film Finance Corporation and the Australian Film Commission invested $38.7m (A$42m) combined.
In the next financial year, $4.1m (A$4.5m) is being cut from across Screen Australia, which also backs TV drama and documentary. The assumption is there will be further cuts as PO claims rise. Harley says supporting films that please an Australian audience is her priority, but she is also focused on diversity and backing films that can have an impact internationally.
Head of marketing and industry development Kathleen Drumm will play a role in this. "Internationally we need to focus on selling what we have to offer in four broad categories: talent, projects, the producer offset and co-productions," she says. "I'm looking at this area as creatively as possible."
When the reshaping of the industry was announced, the PO seemed to be for more commercial films and Screen Australia for smaller, more artistically ambitious titles. In practice, most Australian films with low to mid-range budgets need both types of funding. However, the value of both cannot exceed 75% of the film's budget so producers still have to bridge the gap.
Despite the uncertainty, 2010 has started brightly. David Michod's Animal Kingdom sold to Sony Pictures Classics for the US after winning the world cinema jury prize at Sundance, the Spierig brothers' vampire thriller Daybreakers has grossed more than $30m in the US and at home Bran Nue Dae has been a big hit.
Ten hot films from Australia 2010
Griff The Invisible
(Green Park Pictures, Screen Australia, Screen NSW, Frame Set and Match, Fulcrum Media Finance)
In this romantic debut from the fertile imagination of writer-director Leon Ford, an office worker and superhero meets a gorgeous ­scientist. Ryan Kwanten (True Blood) and Maeve ­Dermody (Beautiful Kate) star. Currently in post, the film is building buzz for its originality.
Contact Fortissimo Films
(852) 2311 8081
Happy Feet 2
(Warner Bros, Village Roadshow Pictures, Kennedy Miller Mitchell)
Director George Miller returns to the penguins, this time in 3D. The original grossed nearly $385m worldwide and won an Oscar. Both were developed by veteran film-maker Miller at his Sydney production base. He has swapped partners this time: Animal Logic played a big part in the first while Happy Feet 2 is being made at Dr D Studios, a joint venture between Kennedy Miller Mitchell and Omnilab Media. It will be released around Christmas.
Contact Warner Bros
(1) 818 954 6000
A Heartbeat Away
(Pictures in Paradise, Screen Australia, Screen Queensland)
The feature debut of renowned stage musical director Gale Edwards. This stylised teen love story features Sebastian Gregory as an aspiring rock guitarist who takes over his father's brass band. In production.
Contact Arclight Films
(1) 310 777 8855
The Eye Of The Storm
(PaperBark Films, private investors)
A return to Australian film-making for Fred Schepisi ― it's been more than 20 years since he made Evil Angels ­- The Eye Of The Storm stars Geoffrey Rush, Charlotte Rampling and Judy Davis. Adapted from a Patrick White novel, the drama is about the complexities of family. Currently shooting.
Contact The Little Film Company
(1) 818 762 6999
Legend Of The Guardians: The Owls Of Ga'hoole
(Warner Bros, Village Roadshow Pictures, Animal Logic)
Animal Logic did a lot of development on this 3D CGI adventure fantasy, adapted from Kathryn Lasky's books, before director Zack ­Snyder came on board after working with the Sydney company on the look of his film 300.
Warner Bros releases it in the US on September 24.
Contact Warner Bros
(1) 818 954 6000
Red Dog
(ScreenWest, Screen Australia, South Australian Film Corporation, Endymion Films)
Kriv Stenders ­whose Boxing Day was a cult hit in Australia in 2007 ­ is currently shooting this epic true story about a dog that glued an isolated community together. Adapted from the book by Louis de Bernieres.
Contact Essential Entertainment
(1) 310 550 9100
Sanctum
(Wayfare Entertainment, Relativity Media, Sanctum Australia)
When an underground caving expedition went wrong for producer/co-writer Andrew Wight the idea for this film was born. Alister Grierson (Kokoda) is directing, James Cameron is executive producer and Richard Roxburgh leads the cast. In post.
Contact FilmNation Entertainment
(1) 310 859 0088
South Solitary
(Macgowan Films, Screen Australia, Screen NSW, Film Victoria, Omnilab Media)
Shirley Barrett's strength is painting human foibles with great humour and poignancy, as evidenced in Love Serenade, which won the Camera d'Or at Cannes in 1996. Set in 1927, South Solitary follows several people as they learn to co-exist on an island and in a lighthouse. Miranda Otto and Marton Csokas star. In post.
Contact E1 Entertainment
(1) 416 646 2400
Tomorrow: When The War Began
(Ambience Entertainment, Omnilab Media, Screen Australia)
The directorial debut of Australian writer Stuart Beattie, whose credits include the Pirates Of The Caribbean blockbusters, Australia and Collateral. An adventure for teens based on a John Marsden book, the film is in post.
Contact Omnilab Media
(61) 2 9467 3400
Wasted On The Young
(ScreenWest)
This low-budget debut from writer-­director Ben C Lucas is about a traumatic incident at a high-school party that sets off a fatal chain of events.
Contact Fortissimo Films
(852) 2311 8081
Contacts
Who's who at Screen Australia
■ Glen Boreham, chair
■ Ruth Harley, chief executive
■ Alex Sangston, senior manager, producer offset
■ Ross Matthews, head of production investment
■ Richard Cohen, legal manager, co-productions
■ Martha Coleman, head of development
■ Kathleen Drumm, head of marketing and industry development