Shoot underway in US on drama The Killing Of A Sacred Deer from Room producers Element Pictures.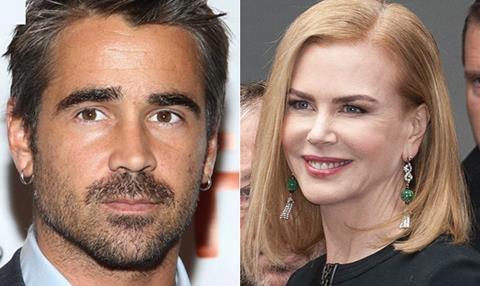 Shooting has started in Cincinnati on The Killing Of A Sacred Deer,​ which reunites Colin Farrell with director-producer Yorgos Lanthimos (The Lobster).
Nicole Kidman stars as the wife of Farrell's character, along with Barry Keoghan ('71), Raffey Cassidy (Tomorrowland), Sunny Suljic (The Unspoken), Bill Camp (12 Years a Slave) and Alicia Silverstone (Clueless).
The film is produced by Ed Guiney and Andrew Lowe's Element Pictures, who were among the producers of The Lobster and Oscar-winner Room.
Lanthimos and his regular collaborator, Efthymis Filippou co-wrote the project in which Farrell stars as Steven, a charismatic surgeon forced to make an unthinkable sacrifice after his life starts to fall apart, when the behaviour of a teenage boy he has taken under his wing turns sinister.
The film is financed by Film4 and the Irish Film Board, who were financiers of The Lobster, and New Sparta Films whose involvement was brokered by HanWay Films.
The project was developed by Element Pictures and Film4. HanWay Films is worldwide sales agent, and A24 are on board as US distributor, following their May release of The Lobster.
The Lobster won the Cannes Jury Prize in 2015 and Lanthimos's Dogtooth won Cannes' Prix Un Certain Regard in 2009, before going on to receive an Oscar nomination for Best Foreign Language Film.