New films on Screenbase this week include the directorial debuts of Michael Lennox and Rachel Tunnard, Terry Jones' economics doc and Chris Crow's The Lighthouse.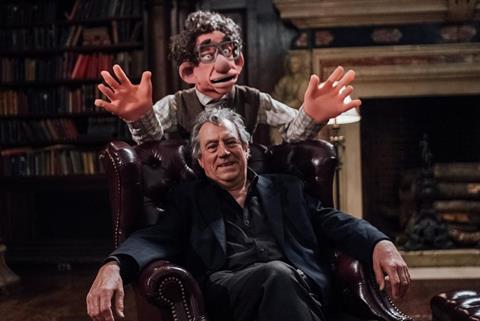 Boardwalk Empire star Stephen Graham leads the cast of Michael Lennox's feature debut A Patch of Fog, beginning principal photography in Northern Ireland next week.
The Fyzz Facility production follows a celebrated novelist and TV personality who finds his reputation on the line when his life invaded by a lonely security guard who catches him shoplifting.
Graham will star alongside Conleth Hill (Game of Thrones), Arsher Ali (Four Lions) and Ian McElhinney (Game of Thrones).
Producers are Robert Jones (The Usual Suspects), Wayne Marc Godfrey (Cake) and David Gilbery (Bone Tomahawk) for The Fyzz Facility with backing from The Fyzz Facility, Northern Ireland Screen and the BFI.
Tunnard's feature debut
Principal photography has wrapped on UK comedy How To Live Yours starring Jodie Whittaker.
The film, about a young woman who moves back home in order to regain her confidence, marks the feature debuts of writer-director Rachel Tunnard and Screen Star of Tomorrow producer Michael Berliner.
Ken Marshall (London to Brighton, Filth) executive produces, alongside Jodie Whittaker, Sean Wheelan of Filmgate Films and representatives from Creative England.
Supporting cast includes Lorraine Ashbourne (King Kong), Alice Lowe (Sightseers), Brett Goldstein (Slave) and Edward Hogg (Anonymous), introducing seven-year-old Ozzy Myers.
The Pico Pictures production is backed by Creative England and Swedish regional fund Film i Väst. Koch Media has acquired UK distribution rights, with NonStop Entertainment taking Scandinavian rights.
Python's economics doc
Monty Python actor-director Terry Jones has completed filming on Boom Bust Boom, a feature documentary designed to explain economics. The film, completed in October, covers the history of financial crashes and comprises a combination of live action, animation, puppetry and songs.
Contributors include US actor John Cusack, journalists Paul Mason and John Cassidy, experts such as Bank of England chief economist Andy Haldane and Nobel Prize winners Daniel Kahneman, Robert J Shiller and Paul Krugman.
The film, set for the international festival circuit in 2015, is co-written by Jones and economics professor Theo Kocken. The Python star also co-directs with son Bill Jones and Ben Timlett of Bill & Ben Productions.
Crow shines a light
Production has commenced on The Lighthouse, the story of two men trapped in an isolated lighthouse where they are cut off from the outside world.
Chris Crow's (Panic Button) psychological thriller is based on the 'Smalls Island incident of 1801', one of the most infamous episodes in Welsh maritime history.
Michael Jibson (The Riot Club), the script's co-writer, will star alongside Mark Lewis Jones (Stella).
The Lighthouse is produced by Crow's long-time collaborator and business partner David Lloyd of Dogs of Annwn. It will shoot on location near Cardiff Bay and Llantwit Major and on set near Cardiff city centre over four weeks.
Soda Pictures have distribution rights for the UK and Ireland.