Horror master talks video game adaptations of his films, his music career and the possibility of composing the music for the Halloween sequel.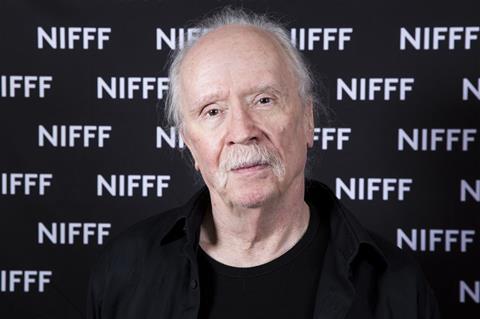 Horror maestro John Carpenter could write the score for the latest spin off of his 1978 classic, Halloween.
Carpenter is already on board as executive producer of the new movie, announced earlier this summer.
"Maybe I'll do the music," the 68-year-old filmmaker told Screen about the project which is being made by Miramax and Blumhouse.
However, Carpenter (who scored the original film) confirmed that he will definitely not be directing the project.
The director/composer/keyboardist was speaking to Screen at the the Neuchâtel International Fantastic Film Festival (NIFF, 1-9 July) where Carpenter and his band performed his film music together with original music from his Lost Themes albums at a sold out concert in the town's cavernous Théâtre du Passage.
Carpenter hasn't directed a feature film since The Ward in 2010 and that movie was his first since The Ghosts Of Mars in 2001.
Explaining the hiatus in his directorial career, Carpenter claimed he had been "burned out" by his filmmaking experiences .
"I had to stop. I had no life. It (filmmaking) is so stressful," he said.
Music career
While Carpenter admitted to not being a fan of VR, he said he was open to adapting some of his films into video games: "I'd be glad to do that."
"Right now, I am interested in my music career," the director stated, while also emphasising that cinema remains his "first love" and that he does have feature and TV projects in development.
Carpenter and his band (which includes his son and godson) will be touring the UK in the autumn - with a concert planned at London's Troxy on the date of Halloween itself.
"It's just so much fun to do," Carpenter enthused about performing music live. "It is such a change from what I used to do for a living. I used to be behind the camera as a director. That's my spot back there. I don't go in front. I watch others - but now I am out there playing."
Carpenter was guest of honour at NIFF.
"I've been inviting him (Carpenter) since the start of the festival. I was quite well known by his management," commented NIFF artistic director Anaïs Emery, co-founder of the event in 2000.
The festival showed restored versions of Carpenter's 18 feature films and has been holding an exhibition of the original posters for his movies.
NIFF growth
NIFF showcases "fantastic" cinema and has sidebars for Asian and digital cinema. It has also recently launched an Amazing Switzerland section showing the best recent Swiss fantasy movies.
The fast growing festival is attracting an increasing industry presence. Among attendees this year have been representatives from Kinolgy, Le Pacte , WTF Films and Elle Driver
NIFF is now tweaking its programming strategy to adjust to the VOD era. This year, NIFF agreed to show Stephen Chow's blockbuster The Mermaid (one of the highest grossing films in Chinese history) although the movie is already available to watch on Netflix in Switzerland. The gambit paid off with the film still attracting healthy audiences.
"It's a big film, a big production. I thought the audience would be interested in seeing this film in a big theatre. Definitely, with genre films, festivals are very important," Emery stated of the festival's role in alerting audiences to genre and fantasy films that might otherwise only be seen in Switzerland on VOD.