EXCLUSIVE: Temple to tackle event-style movie based on singer's popular stage show.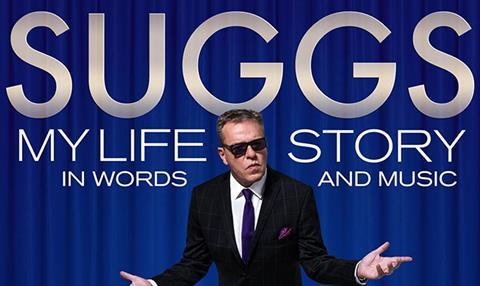 UK documentary filmmaker Julien Temple is to make a movie about UK singer Graham McPherson, aka Suggs.
UK financiers Goldfinch Entertainment and UK management companies Anglo and Hannah Management are teaming on the film adaptation of My Life Story, the singer's popular stage show.
Temple (London - The Modern Babylon) will direct the musical based on the Madness singer's quest to find meaning to his life after his 50th birthday leaves him wondering who is really is.
The film will include narrative drama elements as well as live performance and archive and is ultimately due to screen next year as an event cinema release.
The original show, written by McPherson and Toby Follett and directed for the stage by Owen Lewis, opened at the Edinburgh Festival in 2012 and has now played to more than 250,000 people.
Stephen Malit (Under Milk Wood) will produce the feature which starts principal photography on September 27 on location in London's Hoxton Hall.
Malit told Screen: "I am delighted to be back with Julien pushing forward story telling and event cinema to new ground once again. Julien's unique montage style of drama, performance and music is perfect for this project, with the film and live cinecast combination, release plans as shaping up for next spring."
Executive producer Kirsty Bell of Goldfinch added: "Goldfinch is really pleased to be working with Julien and Stephen on such a creative project with a clear plan of reaching a targeted market within cinema."
English singer-songwriter Suggs is known as the front man of ska band Madness which released fifteen singles that entered the top ten charts in the UK during the 1970s, '80s and the '90s including It Must Be Love and Our House. His subsequent solo career includes singles Cecilia and Camden Town.