Harvey Weinstein, Iain Canning and Garth Davis discuss Toronto hit which had its European premiere in Zurich on Thursday night [Sept 23].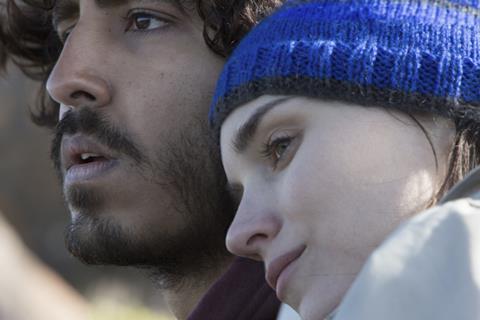 Following Lion's well-received Toronto world premiere, executive producer and US distributor Harvey Weinstein, producer Iain Canning and director Garth Davis discussed the film's journey ahead of the film's European premiere at the Zurich Film Festival.
Weinstein told a press conference that he felt a personal connection to the material when he first read the script:
"I was moved by the piece. Twelve years ago I started seeing Georgina [Chapman, now his wife]. She's involved in fashion, and her inspiration has always been India. Her family had lived there and we named our now 6-year-old daughter India, and Georgina started a school in Delhi to take kids off the street, the Rose Home Shelter. This story was very appealing because of these kids and what happens to them, for me on a personal note," the executive producer said.
Weinstein had a strong track record with producers Iain Canning and Emile Sherman of See Saw Films, having worked with the duo on Oscar winner The King's Speech and Tracks. "They are outstanding at what they do," he said.
Weinstein also paid tribute to director Garth Davis' visual storytelling style. "The first hour of the movie looks like De Sica only with Garth's style. I think it's very moving and very real."
Origins
Canning recalled that he, Sherman and Davis were attending Sundance 2013 with their TV project Top of the Lake when they started talking about making a film adapted from the memoir of Saroo Brierley, who was accidentally separated from his family in rural India and later adopted by an Australian couple. Decades later, he found his birth mother with the help of Google Earth.
Canning recalled, "We attached Garth without having the material, Emile looked at me and said: 'I'd better get back to Sydney, we've got to get these rights!' He left early from Sundance and went back and met Saroo and the family and the representatives of the memoir."
Davis, a commercials veteran who makes his feature directorial debut with Lion, didn't hesitate to get involved.
"I just loved the story so much and I was so moved by it. The first thing we did when we secured the rights was board a plane to India with the 60 Minutes crew, who were at the time taking adoptive mother Sue to meet Kamla, the birth mother. I plunged in intimately with this family. I retraced Saroo's steps in India, I went to some of the orphanages, the streets of Calcutta. I tried to absorb the story."
Screenwriter Luke Davies later did a similar trip. "We caught up in LA together and started to design the arc of the film together," Davis added.
"It's an international story that can unite rather than divide cultures", Canning added. "It's about finding home and about accepting who you are. It's a real story about how the world can come together, with love more than hate."
Audiences are taking note. In Toronto, the film was the runner up for the coveted audience award.
Finding Saroo
The film's adult stars - Dev Patel, Nicole Kidman, Rooney Mara and David Wenham - were somewhat easier to cast than the 5-year-old Saroo.
Davis recalled: "It's very sobering when you are faced with a 5-year-old protagonist for half a movie. We cast in three cities in India over four months, we workshopped with 150-200 children over three weeks…and then I just came across Sunny [Pawar] one day. There was only one choice… I work in an emotional way. There was a moment when he walked in the room, and did this exercise, and I just felt Saroo. I felt the film. It instantly felt very right. I trusted the scene when he was in it… As we went along he became a fantastic actor."
As for Patel, Davis said that he was a "shining light" who was deeply passionate about making the film.
"We embarked on this journey together. He had to put on weight, he spent four months working on the accent, this was his passion for a year."
Connecting to audiences
Weinstein isn't daunted by the film's first half being shot in India in the Bengali language.
"One of the things I think Quentin [Tarantino] did a good job on with Inglorious Basterds is that the movie is only one-third in English; it's in German, it's in French. The older audience is used to subtitles, but we also got the younger audience. One of the great things about the testing on Lion is how young people, teenagers through college years, really love the movie."
Weinstein also paid tribute to another Patel hit, Slumdog Millionaire, for introducing film fans globally to a new kind of Indian story.
"Slumdog was a great film, it showed India to an audience outside India, and it also showed India to Indians…it had a transformational effect even on my friends from India. The same thing is happening [with Lion]."
Weinstein also confessed his love for traditional Indian cinema as well: "I do watch Bollywood movies. They are fun, a lot of them are intelligent. I'm a big Shah Rukh Khan fan."
The producers are now structuring plans now to work with various orphan charities in India. Weinstein reminded the audience that 80,000 kids disappear each year in India: "Hopefully the movie can be transformational in certain ways."
Canning added: "We want what happened to Saroo to not happen again."
Weinstein would also go on to discuss the impending US election and his thoughts on Donald Trump.