EXCLUSIVE: Warp Films and Altitude Film Sales team on Jeremy Dyson-Andy Nyman thriller.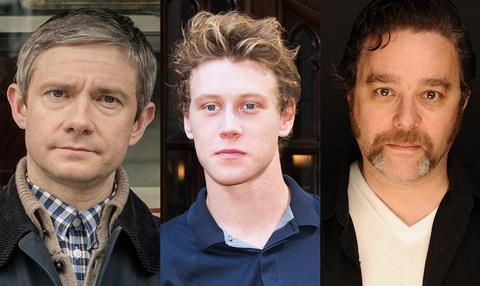 Sherlock co-star Martin Freeman (The Hobbit franchise), George MacKay (Pride) and Andy Nyman (Death At A Funeral) are to star in a feature version of well-received supernatural stage production Ghost Stories, co-written and directed by Jeremy Dyson (The League of Gentlemen) and Nyman, who will reprise his role as professor Goodman.
Principal photography is due to get underway in September with Claire Jones (Sightseers) producing alongside Warp Films' Robin Gutch ('71). Altitude Films has boarded sales on the thriller and will introduce buyers to the project at the EFM.
In Ghost Stories, Phillip Goodman, professor of psychology and arch-skeptic has his rationality tested to the hilt when he receives a letter apparently from beyond the grave.
His mentor Charles Cameron, the 'original' TV parapsychologist went missing fifteen years before, presumed dead and yet now he writes to Goodman saying that the pair must meet.
Cameron, it seems, is still very much alive. And he needs Goodman to find a rational explanation for three unsolved cases that have shaken Cameron to his core.
As Goodman investigates, he meets three haunted people, each with a tale more frightening, uncanny and inexplicable than the last. Gradually, Goodman unearths a hidden truth more terrifying still, that will pull his life apart.
The stage production of Ghost Stories, compared by critics to The Woman In Black for its scare factor, was a critical and commercial hit when it opened at the Liverpool Playhouse and Lyric Hammersmith before transferring to the West End's Duke of York's theatre and later playing in Toronto, Moscow, Sydney, Shanghai and Lima, Peru.
Dyson is best known as a member of sketch comedy team The League of Gentlemen along with Mark Gatiss, Steve Pemberton and Reece Shearsmith. He also co-wrote and directed Sky Arts hit series Psychobitches which won the 2015 Rose D'or for Best Comedy.
Nyman's acting career has included roles in Kick Ass 2 and Severance and voice roles in Shaun The Sheep and Minions. He is a co-writer and director of magician and illusionist Derren Brown's TV and stage shows including Russian Roulette, Séance, and Messiah.
Genre aficionado Mike Runagall, managing director of Altitude Film Sales, said: "Having been totally captivated by the original stage show's devilish plot and unique thrills, we are beyond excited to team-up with the filmmakers to bring this unforgettable, haunting and one of a kind supernatural thriller to audiences worldwide."
Freeman will next be seen in Marvel's Captain America: Civil War and alongside Tina Fey in comedy Whiskey Tango Foxtrot.
BAFTA Rising Star nominee and Screen Star of Tomorrow MacKay, who broke out in 2013 musical-comedy Sunshine On Leith, is currently filming anticipated Bad Robot-Hulu TV series 11.22.63.