EXCLUSIVE: Dromgoole to direct Ché Walker script Dead Head.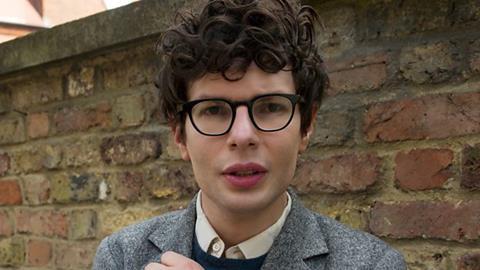 Open Palm Films, led by the former artistic director of London's Globe theatre Dominic Dromgoole, has revealed a slate of six feature projects, including four in pre-production.
According to Open Palm, which launched last year, all four are fully financed.
Among the slate is Benjamin, written and directed by UK comedian Simon Amstell, which is due to shoot this summer.
The comedy, about "intimacy and despair", marks Amstell's first narrative feature after BBC sitcom Grandma's House and recent BBC documentary feature Carnage.
The company is due to go into production next month on Parade, directed by Lisa Mulcahy (The Legend of Longwood) and written by Bruce McLeod (The War Boys).
Set in Bradford, the film follows a young man who is left with severe memory loss after a brutal attack. As he begins to piece together his identity, he's ashamed to learn of the person he became, and the price he will have to pay.
Pond Life, directed by theatre and TV actor Bill Buckhurst and adapted by playwright Richard Cameron from his play of the same name, is shooting in July.
Set in a quiet mining village near Doncaster in 1994, the story follows a group of young friends who embark on a night-time fishing expedition none of them will ever forget.
Meanwhile, Dead Head, set to be directed by Dromgoole, is adapted by The Frontline playwright Ché Walker from the well received 1986 BBC mini-series written by Howard Brenton.
Reimagined for the present day, the film will tell the story of small-time crook Jimmy Cass whose world turns upside down when he opens a hatbox and finds a woman's severed head within. He's been framed and he will stop at nothing to find out why.
Casting details have not been revealed on the projects, which are backed by private equity finance.
Open Palm have also optioned two of Nell Leyshon's novels for development; Black Dirt, which was long-listed for the Orange Prize, and The Colour Of Milk, winner of the Prix de l'Union Interalliée.
Playwright and novelist Leyshon will be adapting both novels for the big screen.
Meanwhile, the company's first film, Dromgoole-directed Making Noise Quietly, has been screened to industry and is being submitted to festivals.
The film is an adaptation of Robert Holman's play of the same name and was filmed on location in Germany, Kent and Yorkshire.
"With Making Noise Quietly, and with these new stories, Open Palm is delighted to celebrate the scope of the chamber epic, and the sharp edge of human truth," said Dromgoole.
"We are delighted to be working with a host of great storytellers, all interested in the stuff of life."