Fox's sci-fi beats Universal's fantasy Snow White And The Huntsman with a $10.1m (£6.6m) debut.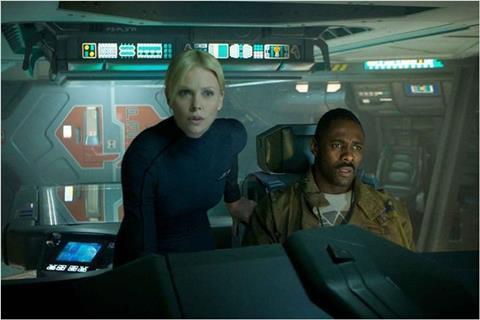 Ridley Scott's eagerly anticipated Prometheus has opened top in the UK, toppling Men In Black 3 after just one week.
Fox's sci-fi landed at number one after gathering $10.1m (£6.6m) from its 1,019 screens for a per-screen average of almost $10,000. 73% of the weekend tally came from 3D screens.
The result is Scott's best-ever opening in the UK, besting the likes of Hannibal ($9.8m/£6.4m) and Gladiator ($8.8m/£5.8m), and was almost double the gross of its nearest competitor.
That competitor was Universal's Snow White And The Huntsman. The second Snow White adaptation of 2012, Rupert Sanders' take on Grimm's fairy tale battled its way to $5.6m (£3.6m), including two days of previews, from its 472 sites.
By comparison, Tarsem Singh's Mirror Mirror debuted to $3.7m (£2.4m) back in April, albeit from less sites (397).
Despite dropping two places to third, Sony's Men In Black 3 rose 3% in its second week, adding $4.9m (£3.2m) for $12.9m (£8.4m) overall.
After two weeks in play, Men In Black stood at $24.1m (£15.7m) and Men In Black 2 had amassed $19.6m (£12.8m).
Disney/Marvel's The Avengers - Marvel Avengers Assemble in the UK - charted a remarkable holdover of only a 3% decrease in its sixth week on its way to $1.3m (£847,598) and has amassed $75.0m (£48.4m) so far.
Continuing to slip from power was Paramount's The Dictator as it fell to fifth. The latest Sacha Baron Cohen comedy recorded a 39% week-on-week drop with a $1m (£650,000) weekend and stands at $14.4m (£9.4m) to date.
Lionsgate's rom-com What To Expect When You're Expecting charted sixth with a $981,853 (£633,935) second weekend for $3.1m (£2.0m).
This week sees saturation releases for Universal's A Fantastic Fear Of Everything, eOne's The Pact and Momentum's Red Tails (opens today). Revolver/Paramount's iLL Manors receives a wide release from today, while StudioCanal's Casa De Mi Padre gets a limited release.
For more of Screen's box office news, analysis and charts, visit our new Box Office section by clicking the icon below.