Fox's sci-fi crosses $25m mark in just ten days to remain in top spot.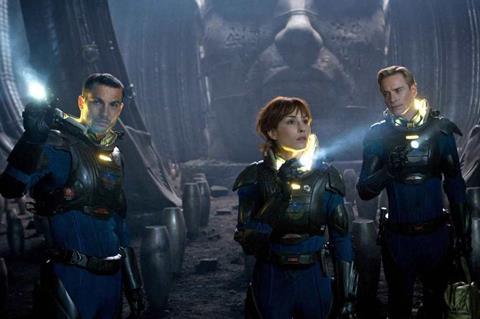 Despite the start of the Euros, Fox's Prometheus added $5.2m (£3.3m) in its second weekend to record a second consecutive week in top spot at the UK box office.
Ridley Scott's return to the sci-fi genre stands at $25.0m (£16.1m) after only ten days in play, and is now the tenth biggest hit of the year so far with the top five within its sights, currently rounded off by Disney's War Horse on $29.0m (£18.6m).
Continuing to show impressive resilence after climbing a place to second was Sony's Men In Black 3, dropping just 16% in its third week on its way to an estimated $3.9m (£2.5m).
The threequel has now amassed $24.3m (£15.6m), the third biggest international market for the film which is now the highest grossing instalment of the series overseas.
Universal's Snow White And The Huntsman fought its way to a further $3.6m (£2.3m) from its 467 sites as it fell to third. The fantasy enjoyed a decent first week as it added over $5m during the Bank Holidays and school half term, for $14.7m (£9.4m) to date.
The week's highest new entry belonged to eOne's horror The Pact in fourth with a $1.4m (£932,325) opening bow, the fourth best for a horror film this year in the UK.
Disney/Marvel's superhero behemoth The Avengers - Avengers Assemble in the UK - rounded off this week's top five and has now passed the £50m mark to stand at a stunning $78.3m (£50.3m), following an estimated $1.0m (£661,624).
Vertigo's Top Cat clawed its way up a place to chart sixth in its second week as a result of a $871,916 (£562,189) weekend and has currently grossed $3.0m (£1.9m).
All-star romantic comedy What To Expect When You're Expecting added $672,866 (£433,000) in eighth for $5.0m (£3.2m) to date.
Ken Loach's Cannes competition title The Angel's Share is currently the director's sixth best performance in the UK, standing at $1.1m (£718,140) through eOne after two weeks in play.
With a limited opening, Universal's A Fantastic Fear Of Everything charted 20th with a non-final $55,000 (£35,000) from its 101 locations.
This week sees saturation releases for StudioCanal's Fast Girls, Universal's re-release of Jaws, Momentum's Red Lights and Warner Bros.' Rock Of Ages (opens June 13). eOne's Cosmopolis, Metrodome's A Royal Affair and Tomori Films' A Thousand Kisses Deep all receive wide releases.
For more of Screen's box office news, analysis and charts, visit our new Box Office section by clicking the icon below.