Dir: Michael Mann. US. 2009. 140 mins.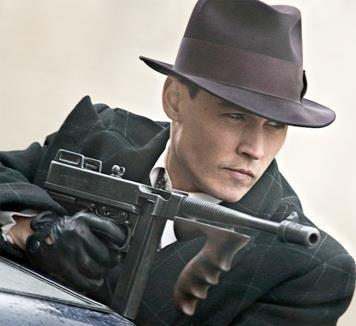 Working in his trademark epic-crime-drama mode, Heat director Michael Mann delivers a satisfying and absorbing portrait of the rise and fall of 1930s bank robber John Dillinger in Public Enemies. As expected, Mann's period piece is technically flawless and visually accomplished, but the more heartening news is that this perfectionist filmmaker doesn't let the stylish action completely overwhelm his characters, a failing which has held back some of his more recent films.
Action connoisseurs have always adored Mann for his bravura set pieces, and Public Enemies doesn't disappoint in this regard.
Opening in the US and UK on July 1, a week after Transformers: Revenge Of The Fallen,Public Enemies is aiming for more discriminating adult audiences alongside the action crowd and should perform towards the higher end of Mann's work (2004's Collateral, which grossed $218m worldwide), boosted particularly by Johnny Depp in the lead role. Lifted by warm notices, this could be a breakout hit.
In 1933 during the thick of the Great Depression, flashy bank robber John Dillinger (Depp) breaks out of prison and embarks on a crime wave that draws the attention of FBI director J. Edgar Hoover (Crudup), who recruits agent Melvin Purvis (Bale) to hunt him down. Meanwhile, Dillinger falls in love with a coat-check girl, Billie Frechette (Cotillard), and convinces her to join him on the lam.
Director and co-writer Michael Mann has often shown a passion for the inner workings of criminals and cops and their shared devotion to duty and honor (Heat, Collateral). But his last film, Miami Vice, illustrated the limits of this approach, which often favours brilliantly choreographed action scenes and terse tough-guy dialogue over resonant characters – especially females, who usually serve as romantic playthings.
Public Enemies doesn't entirely correct that imbalance, but this lengthy film engrosses because Mann does delve a little deeper into his characters' psychology.
Working from Bryan Burrough's non-fiction book about Dillinger and the formation of the FBI, Mann, production designer Nathan Crowley and cinematographer Dante Spinotti have done a stunning job recreating the era while, at the same time, making the film feel contemporary. Much of that credit must go to Spinotti, whose glorious, handheld HD-camera images lend Public Enemies an urgency and immediacy which are a far cry from most period films.
Several members of Public Enemies' large cast turn in strong work that adds to the story's dramatic authenticity and drive. As Dillinger, Depp remains a bit of an enigma, conveying the thief's arrogance and sardonic irreverence without dipping into the theatricality of his roles in Pirates Of The Caribbean or Sweeney Todd. Bale plays Purvis as a straight-arrow lawman who discovers to his horror how easy it is to cross ethical lines in order to apprehend wrongdoers. While his emotional journey seemingly echoes the U.S. government's modern-day moral troubles with "enhanced interrogation techniques" in the wake of 9/11, Bale makes the political commentary relatable on a personal level. As for Cotillard, she may be yet another second-fiddle love interest in a Michael Mann film, but at least her charm and steel give the role needed depth, especially with the love story growing in importance as the film reaches its conclusion.
Action connoisseurs have always adored Mann for his bravura set pieces, and Public Enemies doesn't disappoint in this regard. Kicking off with a thrilling prison break, the film moves sleekly from sequence to sequence, finding innovative new ways to stage action scenes and wring tension from seemingly commonplace set-ups.
To sign up for Screen's weekly Reviews Newsletter please click HERE.
Production companies
Relativity Media
Forward Pass
Misher Films
Tribeca Productions
Appian Way
Worldwide distribution
Universal Pictures
Producers
Kevin Misher
Michael Mann
Screenplay
Ronan Bennett
Michael Mann
Ann Biderman
Based on the book by Bryan Burrough
Cinematography
Dante Spinotti
Production designer
Nathan Crowley
Editors
Paul Rubell
Jeffrey Ford
Music
Elliot Goldenthal
Main cast:
Johnny Depp
Christian Bale
Marion Cotillard
Billy Crudup
Stephen Dorff
Stephen Lang