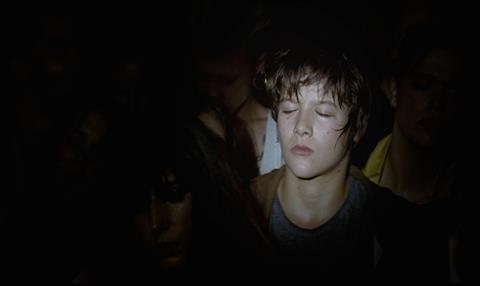 As Qumra kicks off its second edition with 33 new projects selected (see the full list here), here are updates from several projects selected for the inaugural edition in 2015.
Degrade, Arab and Tarzan Abunasser's story of 12 women in a Gaza hair salon, was selected for Cannes' Critics Week soon after its presentation in Qumra, and went on to screen at other festivals including Toronto, London and Dubai. Elle Driver handles sales.
Mountain (pictured), João Salaviza's Portugal-set coming-of-age story, was a world premiere in Venice Critics' Week and went on to screen in San Sebastian and Rotterdam.
Frenzy, Emin Alper's drama about two brothers in upheaval in Istanbul, had its world premiere at Venice, where it won the special jury prize, before going to Toronto. It later won an international grand jury prize at the Asia Pacific Screen Awards and five awards at the Adana Golden Boll festival in Turkey. The Match Factory boarded sales.
Holy Cow, Imamaddin Hasanov's Azerbaijan-shot documentary, was invited to the Paris Co-production Village after Qumra and had its world premiere at IDFA. It was selected for Karlovy Vary's Docu Talents From The East, presented at IFP in New York and will soon be released in German cinemas.
Go Home, Jihane Chouaib's drama about a young woman discovering herself, had its world premiere in Busan before screening in Dubai.
The Garbage Helicopter, a road trip story directed by Sweden's Jonas Selberg Augustsén, had its world premiere at the BFI London Film Festival before screening in Rotterdam and Chicago.
Asphalt, Ali Hammoud's story of two Arab truckers, has been selected for a prominent festival premiere that is not yet public.
Marjoun And The Flying Headscarf has finished principal photography in the US. Director Susan Youssef says Qumra helped her raise additional financing for the drama about a Lebanese-American teenager in Arkansas.
The Taste Of Apples Is Red, Ehab Tarabieh's story of two elderly brothers living in a village on the Syrian border, has received an Arab Fund For Arts & Culture (AFAC) grant and is partaking in the RAWI Screenwriters' Lab in Jordan (in partnership with Sundance) after earlier industry meetings in Sarajevo and Los Cabos.
Me Myself And Murdoch, Yahya Alabdallah's project about a Palestinian man who wakes up from an accident only speaking Hebrew, was awarded an AFAC grant after Qumra and is in talks with European partners before going into production later this year.
What Comes Around, a Cairo-set project by Lebanese-Egyptian filmmaker Reem Saleh, has a new European producer (yet to be announced) as a result of Qumra 2015.
Madmen's Fort, Narimane Mari's drama about power struggles in the Algerian Sahara in 1860, won the support of Cinema du Monde after a meeting at last year's Qumra.
Superpower, Mohammed Al Mahmeed's Qatari story of a family dealing with illness, has received a Qatari Film Fund grant and is in final stages of development.
Our Time Is Running Out, Meriem Mesraoua's story of a pragmatic Qatari teenager, also received a Qatari Film Fund grant and is set to start productionlater this month.
DFI's head of grants Khalil Benkirane told Screen: "For many of the films in post-production last year, festivals were here and got to see [a cut] on the big screen. I think that helps a lot."
In addition to the Qumra projects, DFI has had a high-profile year, with grantees like Mustang by Deniz Gamze Ergüven being nominated for the foreign language Academy Award. In 2015, there were five DFI-backed projects at Cannes and 17 at Dubai. In 2016 so far, there have been three at Sundance and eight at the Berlinale.
"By being present at all the various festivals, people learn more about us," Benkirane said. "We are seeing more and more submissions from outside MENA."
In total, DFI grant submissions have risen year-on-year from 230 to 330 projects.