Dir/scr: Mani Ratnam. India. 2010. 130mins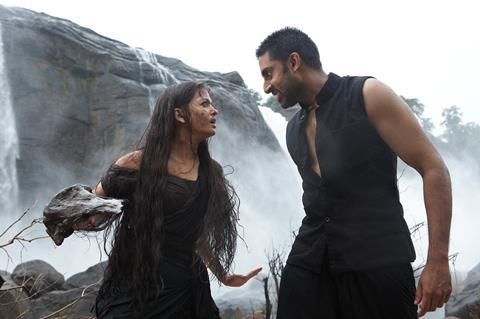 The Indian superstar pairing of off-screen couple Aishwarya Rai and Abhishek Bachchan helps give the gloriously melodramatic Raavan a real sense of glossy conviction, and this large-scale international release – with its blend of action, dance and romance - from Reliance BIG Pictures should make a hefty dent in box offices around the world.
Raavan is glossily made, rich in atmosphere and high in tension.
Directed with panache by Mani Ratnam (who made Dil Se and Bombay) the film is at times a breathless tale of revenge, romance and obsession set against a glorious remote rural backdrop of Northern India. The key elements are in place – good-looking leads, love, jealousy, violence, comedy, dance routines and songs – to appeal to audiences, and the presence of Aishwarya Rai may encourage some crossover.
Tough police inspector Dev (Vikram, sporting a fine moustache) has relocated to Lal Maati, a remote town in Northern India, not long after marrying beautiful dancer Ragini (Rai), and sets about trying to capture charismatic tribal chief Beera Munda (Bachchan), who is something of a Robin Hood figure and much loved by the local have-nots.
Beera kidnaps Ragini, claiming that he will kill her, but is gradually won over by her strength and passion after she tries to take her life by jumping off a cliff. He rescues her from the waters, and holds her in his remote stronghold. Dev's becomes obsessed with finding Beera, taking his troops deep into the forests with the aid of a nimble-footed guide Sanjeevani (Govinda, providing the film's few moments of comedy).
The slightly bonkers Beera begins to fall for the beautiful and feisty Ragini, and eventually explains why he kidnapped her. His sister's wedding had been interrupted by Dev and his policeman, with Beera wounded in the subsequent shootout and his sister taken and abused by the police. The scene is set for a climactic fight between Dev and Beera, while Ragini watches on helplessly.
Raavan is glossily made, rich in atmosphere and high in tension. Abhishek Bachchan plays Beera as a slightly mad but brutally charismatic bandit who commands fierce loyalty from the locals. He in uncompromisingly violent, but cannot be help but be won over by the poise and resilience of Ragini. Aishwarya Rai is angrily beautiful – initially she seems to spend most of the film soaking wet (rain, waterfalls and rivers all feature) and heavily blooded and bruised – and easy to believe as the stunning woman caught between two obsessive men. South Indian star Vikram is equally impressive as the determined cop who will stop at nothing to get his man.
Director Mani Ratnam favours lots of swift focus shots of Bachchan snarling and looking tormented, though also features a lot of camera-movement to help keep up the film's momentum. Lush cinematography by Santosh Sivan and V. Manikandan help keep the melodrama at fever pitch for most of the film, and though there are a few dance numbers they are well integrated and impressively performed, especially a large-scale number set in a watery partially-sunken temple.
The on-screen pairing of Indian superstars Aishwarya Rai and Abhishek Bachchan (who performed together in Guru) will help garner the press and fan attention, with the film likely to be a big winner for Reliance BIG Pictures.
Production company: Madras Talkies
International distribution: Reliance BIG Pictures, www.bigpictures.co.in
Producers: Mani Ratnam, Sharada Trilok
Executive producer: Shaad Ali, C. Chintu Mohaptra
Cinematography: Santosh Sivan, V. Manikandan
Production designer: Samir Chandra
Editor: Sreekar Prasad
Music: A.R. Rahman
Website: www.raavan-thefilm.com/hindi.html
Main cast: Aishwarya Rai Bachchan, Abhishek Bachchan, Vikram, Govinda, Ravi Kishan, Priyamani