Dir/scr: Gabe Polsky. US-Russia. 2014. 84mins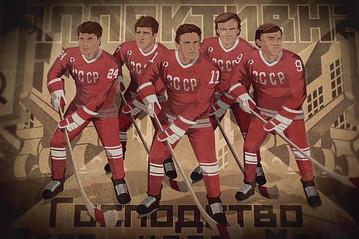 Presented by the dream team of Werner Herzog and Jerry Weintraub, this feisty documentary about the CSKA Moscow 'Red Army' ice hockey dream team of the 1970s and 1980s, and the Soviet national team that was a carbon copy of it, tells an engaging story that is as much about life in Russia then and now as it is about padded hockey jocks. With a feelgood audience appeal – especially for anyone old enough to remember Brezhnev or the Lake Placid Winter Olympics – this well-crafted meld of sport and politics is sure to have some theatrical life in it after its Cannes premiere.
The main achievement of Red Army is to shine a fascinating hockey-stadium sidelight on the post-war history of Russia.
In the wry vein of doc-directing colleagues like Michael Moore or Jonathan Nossiter, Polsky squeezes humour as well as pathos out of his source material. He's aided in this by the film's 'hero' and main interviewee, former Red Army team defender Vlachaslav 'Slava' Fetisov, whose state-negotiated 'transfer' to play in the US National Hockey League following Perestroika opened the floodgates for hundreds of ice hockey players to try their luck outside the former Soviet Union.
Fetisov is an often reluctant subject whose frequent checking of his mobile phone while the camera is filming becomes a kind of running gag – but he's also a smart and sardonic type who does not suffer fools (and foolish questions) gladly, and a man with a deep and emotional Russian soul. Other talking heads in Russia, Canada and the States fill in the background – including a former KGB agent, interviewed in a park with the granddaughter he's been delegated to look after, who provides some of the film's more hilarious moments.
The story begins by establishing just how central hockey was to the Soviet Union's attempt to demonstrate the superiority of the communist system. We learn about Anatoli Tarasov, the team's talented first coach, responsible, it is suggested, for bringing lessons from ballet and chess to bear on a sport until then known more for its boxing moves (and the Tiki-taka-on-ice shown here in archive footage sure is a joy to watch).
The team's next coach, Viktor Tikhonov, is painted as a rigid Politburo-appointed disciplinarian with whom Fetisov soon came into conflict. But as one of the famous 'Green Unit' of five top players in the 1980s, Fetisov and his teammates had plenty of bargaining power themselves, which they used in 1989 when a crumbling, cash-strapped Soviet Union finally allowed them to play in the NHL – for a cut of their wages.
A side drama involves Fetisov's then best friend and fellow defender Alexei Kasatonov, whose refusal to support his teammate's stand-off against Tikhonov is sold as a betrayal – more, perhaps, by the director than the two men themselves, who seem reluctant to stick to the script.
Like Searching For Sugar Man, Polsky's documentary edits the facts to suit its dramatic arc, suggesting inaccurately that but for the US team's surprise win in the 1980 Winter Olympics, the Soviet team's progress was one long triumphal progress. But its mining of the archives is faultless – perhaps the highlight being a priceless youth-choir rendition of a propaganda song entitled 'The Red Army is the strongest'. And it ably times for maximum effect a revelation about its main interviewee's six-year stint as Minister of Sport under Vladimir Putin. But the main achievement of Red Army is to shine a fascinating hockey-stadium sidelight on the post-war history of Russia.
Production companies: Gabriel Polsky Productions
International sales: Wild Bunch, www.wildbunch.eu
Producer: Gabe Polsky
Executive producers: Werner Herzog, Jerry Weintraub, Liam Satre-Meloy
Cinematography: Peter Zeitlinger, Svetlana Cvetko
Editors: Eli Despres, Kurt Engfehr
Music: Christophe Beck, Leo Birenberg