Dir: Spike Lee. US. 2012. 130mins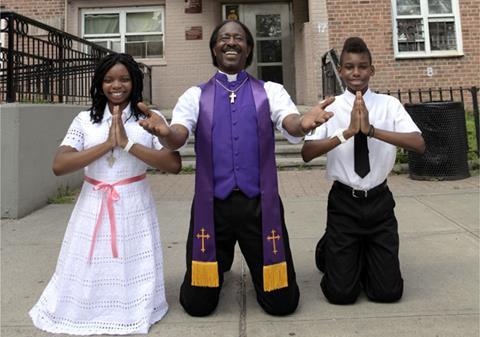 Red Hook Summer, Spike Lee's latest ode to Brooklyn, is a tender coming of age story with a low budget and a revenge saga's wrath toward a preacher who did the wrong things years before. Ardently motivational, the self-financed return to independent austerity is long and loosely structured.
Lee's homecoming to independent film and independent budgets serves up twists and turns.
Its tale of a young teenager who gets a summer's dose of wisdom in the projects of "Da Hook," has lessons that could fill a month of Oprah-style segments, and that exposure could deliver a public. Yet Lee's low-budget aesthetic and his meandering script lack a clear fit into the theatrical marketplace.
Outside the US, audiences may find its Red Hook drama too local and its focus on religion too American. Lee's fans (including the critics) could still rally to its musings on youthful experience and the fallible authority of the pulpit.
Co-written by Lee and Red Hook native James McBride (Miracle At St. Anna), the story follows young Flick Roylae (Jules Brown) who is sent from Atlanta to spend a summer in the Red Hook (Brooklyn) housing projects with Bishop Enoch Rouse, the grandfather whom he has never met. Bishop Enoch (Clark Peters) is a deeply devout man who heads a struggling church congregation and preaches day and night with spirit and comic eloquence. He's determined to win over Flick's soul. But the skeptical young man worships his iPad, and finds a soulmate in a wisecracking girl from the project, Chazz Morningstar (Toni Lysaith).
The neighborhood is a supporting cast of gentle eccentrics and a local crew of drug-dealing gangbangers led by Box (Nate Parker). Years of preaching by Bishop Enoch haven't changed the place, raising doubts about the effectiveness of the preacher's message.
Larger questions will arise about the bishop's past, as the two adolescents learn over the course of the summer.
Red Hook Summer sends mixed messages, not least because his script's skepticism about the authority of a small Black church takes on the tone of a sermon. The neighborhood is a tight community, yet, for all the humanity of its residents, it can't sustain itself against the pressures of poverty and gentrification. Red Hook (here, at least) is a place where eccentricity is tolerated, but a crime that the Bishop committed far away years before is punished violently by the local gang. Lee's beloved Brooklyn is a mix of nurturing and violence, yet in this film it also seems a place worth escaping. Lee's ode to Red Hook is often perplexing.
The music Lee chose also deploys opposites. We hear the rousing dramatic voice of Judith Hill throughout. There's also an improbable hymn by Bruce Hornsby, who produced the film's score, in a tentative tone that couldn't be more distant than anything you would hear in the Black church.
Befitting the film's slim budget, Lee shot within a narrow radius of locations. Like the unpretentious neighborhood, the look of Red Hook Summer is less refined than that of Lee's recent features or of his television commercials. That palette crafted by cinematographer Kerwin Devonish and production designer Sarah Frank seems localised to fit the story.
Performances bring energy to the script. Newcomer Jules Brown captures the fearful shyness of a young visitor without street smarts. Toni Lysaith plays Chazz with the brash confidence of a city girl determined to be his teacher for a few months.
Lee himself lightens the mix as Mookie, the dutiful pizza deliveryman, a role he created for Do the Right Thing (1989), another Brooklyn story. Mookie's presence suggests the neighborhood's resilience. Lee has stressed that Red Hook Summer "is not a motherfuckin' sequel." Nonetheless, quotations abound.
As Flick's preacher grandfather, Clark Peters is the minister as improviser, a born talker who combines jokes with the gospel of a divine path out of poverty. Peters turns these sermons into arias. He's a mixture of off-the-rack staginess and ingenious subtlety as a flawed humane anchor in rough territory, so the plot turn seems abrupt late in the film when a man rises in church to tell of abuse at Enoch's hands many years before. The violent retribution against Enoch that follows is a stiffer jolt.
Black-white relations, a clash in some of Lee's earlier films, barely enter this one, except as gags (recalling Do The Right Thing) about Red Hook's gentrification, mocking the new white arrivals.
Lee's homecoming to independent film and independent budgets serves up twists and turns and extended ruminations about whether Black leaders and black institutions have done the right thing for their impatient citizens. "I prayed so hard my knees wore out," one woman tells Bishop Enoch. "Where's my stimulus money?", asks a church deacon (Thomas Jefferson Byrd), as he takes a swig of wine.
A filmmaker in transition, Lee is asking questions. Like any transitional work, Red Hook Summer also shows its seams.
Production companies: Forty Acres and a Mule Filmworks, Inc., Ford Foundation
International Sales: Creative Artists Agency
Producers: Spike Lee , James McBride
Screenwriters: James McBride, Spike Lee
Cinematography: Kerwin Devonish
Editor: Hye Me Na
Production Designer: Sarah Frank
Music: Bruce Hornsby, Judith Hill
Main Cast: Clark Peters, Jules Brown, Toni Lysaith, Nate Parker, James Ransone, Thomas Jefferson Byrd