Raymond Depardon's latest doc takes in life at a French psychiatric hospital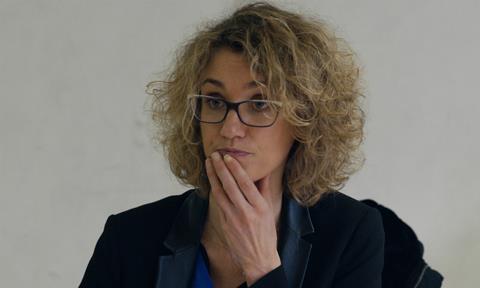 Dir: Raymond Depardon. France. 2017. 87mins
Veteran docu-maker Raymond Depardon pulls off the neat trick of being both impartial and compassionate in 12 Days (12 Jours), a soberly filmed but emotionally gratifying introduction to an array of involuntary patients in a French psychiatric hospital. This non-competing Cannes Special presentation should be shown on screens large and small wherever quality docs find a home.
There's genuine and inadvertent humor in the midst of sadness
By law, as of September 2013, a hearing must be held before the titular timeframe expires whenever someone is committed without his or her consent. A solo judge specialized in personal freedom decides whether each hospitalization should continue or not. From this basic premise, Depardon and faithful collaborator of three decades Claudine Nougaret (he's on camera and directing, she's on sound and producing tasks) add a small but important contribution to the filmed annals of closely observed human behavior.
Not mentioned in the doc but per the press notes, in France 92,000 people per year — about 250 a day — are placed in psychiatric wards without their permission.
Depardon uses three stationary cameras in the bare bones room where hearings are held. One is aimed at the patient, one at the judge and the third provides a wide shot of the proceedings. Tellingly there is always an equal distance between the judge and the patient being interviewed.
The 10 individuals we're shown were chosen from 72 filmed hearings conducted by 4 different judges — 2 men and 2 women — this past November and December. Some patients agree that they absolutely belong in what used to be called the looney bin or the nut house and others beg to differ.
The doc eases us in to the legal ritual gradually. Each lone judge who makes a decision seems efficient and qualified. Whatever the patent says, they're clearly being listened to. We come to understand that the judges have seen it all and heard it all before and that the patients' lawyers are invested in putting a positive spin on sometimes heartbreaking circumstances.
One woman, an orphan who has been institutionalized over half her life, wants to be released so she can kill herself in peace. (Then again, she seems willing to move to a group apartment so long as she's not separated from her beloved pets.) A 40-year-old man who has served prison time appears fairly reasonable at first until the full magnitude of his delusions emerges. An immigrant from Angola who stabbed a woman 8 years prior thinks it's high time they let him out. He can't even pronounce "schizophrenia" let alone admit he's suffering from it.
One patient complains that being interned means he'll miss the annual projected-on-façades light shows for which Lyon is famous and one woman describes how her depression made it impossible for her to enjoy the city's Lumiere festival of restored and heritage films. None of the interactions come across as a sham or an empty formality. Patients are treated with respect, at least in the hearings room.
Between interviews, Depardon shows us the colour-coded corridors of the facility where medicated-seeming patients shuffle along. The camera slowly approaches a door behind which a woman's voice describes awful visions in frantic tones. There's also genuine and inadvertent humor in the midst of sadness and administrative formalities. One interviewee posits that he may be crazy but then so is everybody else.
The misty, wintry light outdoors meshes beautifully with Alexandre Desplat's melancholy and majestic score.
Production companies: Palmeraie et desert, France 2 Cinema, Auvergne-Rhône-Alpes Cinema
International sales: Wild Bunch ediederix@wildbunch.eu
Producer: Claudine Nougaret
Cinematography: Raymond Depardon, Simon Roche
Editor: Simon Jacquet
Music: Alexandre Desplat