A gripping, if restrained, true-life drama from Poland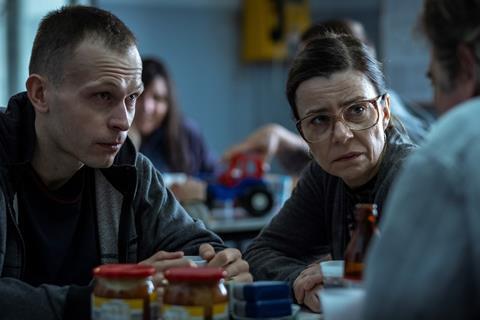 Dir: Jan Holoubek. Poland. 2020. 116mins.
Telling its enraging story with admirable restraint, 25 Years Of Innocence dramatises the life of Tomasz Komenda, who was wrongfully convicted for the rape and murder of a 15 year-old girl, spending nearly two decades in prison before he was finally exonerated. Director Jan Holoubek lays out the horrors that Komenda faced behind bars while also highlighting the few souls who fought to get him released, and although this true-life drama recalls many similar films, it's a solidly compelling examination of what injustice looks like. Piotr Trojan's central performance isn't showy, but it's filled with muted helplessness as this young man slowly gives up hope that he'll ever see freedom.
Could see substantial subsequent festival play
The film competed in the debut section at Tallinn last November, and is currently screening as part of the Bahamas International Film Festival. Even those not familiar with Komenda's ordeal will be gripped by what befell him, and 25 Years Of Innocence hews closely enough to the conventions of the prison drama that the picture could see substantial subsequent festival play.
25 Years Of Innocence begins in 2000, when 23-year-old Wroclaw resident Komenda (Trojan) is dragged from his home by police, who accuse him of taking part in the rape and killing of teenager Marysia (Magdalena Osinska) in the early hours of New Year's Day. Even though Komenda was nowhere near where the crime occurred, law enforcement tortures him into confessing, which results in a 25-year sentence for the innocent man. His mother Teresa (Agata Kulesza) vows to stand by his side, but it's not until a conscientious inspector, Korejwo (Dariusz Chojnacki), takes on the case that Komenda has a chance of being released.
Making his feature-length debut, Holoubek utilises a nonlinear storyline, moving between Komenda's 2000 arrest, different sets of flashbacks, and meaningful moments in prison, and Korejwo's investigation to create a sense of how this injustice sits on the young man, leaving him feeling perpetually trapped. Trojan plays Komenda as a naive, slightly awkward individual who is ill-equipped to defend himself against the police and then, later, his fellow inmates. 25 Years Of Innocence doesn't try to suggest that Komenda grew as a person due to this ordeal — rather, Trojan presents us with someone who withdraws into himself, unable to endure the ongoing mental and physical torment.
However, the film doesn't fetishise his suffering, giving viewers enough evidence of the beatings and trauma inflicted on Komenda without lingering on the abuse. Similarly, Holoubek depicts Marysia's ugly assault with sufficient detail that we're sickened — but not so much that it feels exploitative. (The film has changed the name of the actual young woman who was murdered, Malgorzata Kwiatkowska.) While 25 Years Of Innocence focuses on Komenda's plight — and how the police scapegoated him in order to get a conviction in this high-profile killing — it never lets the viewer forget about the crime's true victim.
The supporting performances are nicely understated, with Kulesza especially affecting as Komenda's mournful mother. Avoiding emotional fireworks, Kulesza subtly communicates Teresa's beaten-down resilience — she conveys how much the son's imprisonment has taken out of Teresa through quiet, unimaginable weariness. And Chojnacki humanises a potentially cliched character — the righteous detective riding in to save the day — by showing us how much hard work goes into overturning a conviction.
Occasionally, 25 Years Of Innocence allows for a cursory stylistic flourish — such as an image of snowflakes silently falling inside the prison that houses Komenda — but on the whole, Holoubek respects the gravity of the actual events too much to permit such lyrical digressions. Indeed, even when the film arrives at its happy ending, there's a strain of melancholy woven into the scenes that acknowledges the permanent damage done to this man. Just because Tomasz Komenda is freed doesn't mean he can get back all that was taken from him.
Production companies: Polish Film Institute, TVN
International sales: TVN, distribution@tvn.pl
Producer: Anna Wasniewska-Gill
Screenplay: Andrzej Golda
Production design: Maciej Fajst
Editing: Rafal Listopad
Cinematography: Bartlomiej Kaczmarek
Music: Colin Stetson, Sarah Neufeld
Main cast: Piotr Trojan, Agata Kulesza, Dariusz Chojnacki, Jan Frycz, Lukasz Lewandowski, Mikolaj Chroboczek, Andrzej Konopka, Julian Swiezewski, Magdalena Rozczka