Tony Servillo stars in this Naples-set crime drama 'drunk on pulp pleasures'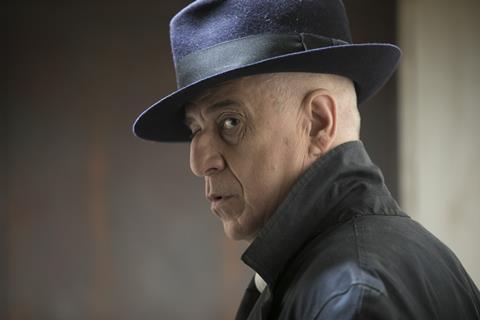 Dir: Igort. Italy/Belgium/France. 2019. 107mins
Style outpaces substance enjoyably in 5 Is The Perfect Number (5 è il numero perfetto), a superficial but entertaining comic-book noir. As a melancholy retired hitman seeking vengeance for his son's murder, Toni Servillo lends gravitas to this familiar crime saga, imbuing the character's every action with an air of doomed grandeur. Adapting his own graphic novel, artist and illustrator Igort shows a strong sense of atmosphere and tone, resulting in a movie drunk on pulp pleasures. And although 5 doesn't have anything new to say about family, regret or moral ambiguity, it moves confidently from one handsome set piece to the next.
A vivid, hyper-real world heavily indebted to previous noirs
Screening in Venice Days, the film is set to open in Italy today, although genre aficionados the world over may enjoy this pungent, violent excursion. Co-starring Valeria Golino and Carlo Buccirosso, 5 shares a passing resemblance to other hardboiled neo-noirs like Sin City, which will give it cult appeal even if critical acclaim is moderate.
The film introduces us to grief-stricken Peppino (Servillo), who lives in Naples in the early 1970s. He is still pained by the recent loss of his beloved wife when his son Nino (Lorenzo Lancellotti), a hitman for the same crime family as he was years earlier, goes out on an assignment, only to be ambushed and shot dead. Teaming up with his old associate Totò (Buccirosso) and an enigmatic beauty, Rita (Golino), who carries a torch for him, Peppino sets out to determine whether someone in the syndicate orchestrated this killing.
Making his directorial debut, Igort works closely with cinematographer Nicolaj Brüel to construct a Naples of dreams: with its chiaroscuro lighting and silky interiors, 5 fashions a vivid, hyper-real world heavily indebted to previous noirs. Sporting a fake, beak-like nose and sad eyes, Servillo seems to have stepped out of a graphic novel, the understated intensity of Peppino's emotions complemented by his striking, nearly cartoonish look.
5's plot machinations aren't particularly interesting, mostly serving as a way for us to see how this no-honour-among-thieves revenge tale will play out. But just as Servillo capably communicates the accumulated burden of all the killing that Peppino has meted out, so too do Buccirosso and Golino convincingly portray genre types. That said, it's unfortunate that Golino is mostly asked to play the umpteenth version of the mysterious noir bombshell — Rita's main quality is her ability to pine for this withdrawn man while batting her smoky eyes.
Still, Igort has a blast in his particular cinematic sandbox, touching on everything from spaghetti westerns to B-movies as he follows Peppino's journey to learn the truth. Shootouts come in different varieties, all of them skilfully executed, and even when 5 slows down to pay lip-service to the psychic toll that crime takes on its practitioners, the quality of the performances ennobles what's least-persuasive and compelling about the material. In a sense, the film is about Peppino's realisation that he can, at least, maybe leave this life behind, but Igort has no intention of breaking from the rich, well-trod tradition of moody, stylized thrillers that 5 unapologetically swears an oath to.
Production companies: Propaganda Italia, Jean Vigo Italia, Rai Cinema
International sales: Playtime, info@playtime.group
Producers: Marina Marzotto, Mattia Oddone, Elda Ferri
Screenplay: Igort, from the hononymous graphic novel 5 è il numero perfetto published in Italy by Coconino Press
Production design: Nello Giorgetti
Editing: Esmeralda Calabria, Walter Fasano, Jan Hammeuw
Cinematography: Nicolaj Brüel
Music: D-Ross & Startuffo
Main cast: Toni Servillo, Valeria Golino, Carlo Buccirosso