Un Certain Regard 2019 opens with this Canadian comedy of unease about two ultra-close siblings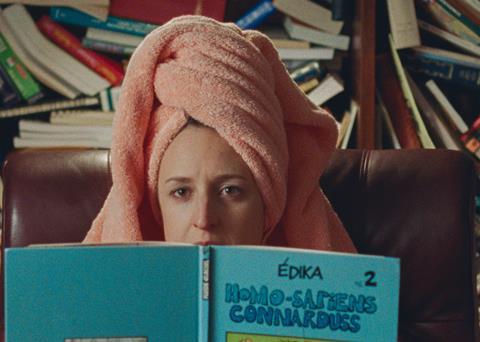 Dir/scr: Monia Chokri. Canada. 2019. 117mins.
A fanatically devoted sister and brother in their 30s are obliged to re-calibrate their relationship when he acquires a serious girlfriend in A Brother's Love (La Femme de mon frere). This ultra-talky Montreal-set tale overflows with sibling affection that's a trying blend of joshing and nastiness, while exploring all the ways to put a brave face on floundering young adulthood.
An acquired taste some viewers may have trouble acquiring
Marking the feature directorial debut of actor Monia Chokri (Xavier Dolan's Amours Imaginaires), this revolves around disgruntled and obnoxious protagonist Sophia (a gung-ho Anne-Elisabeth Bossé) whose self-centered antics are an acquired taste some viewers may have trouble acquiring. The comedy of unease is overlong but earnest and energetic, marking Chokri as a talent to continue watching.
A Brother's Love starts with an amusingly strident episode in which 35 year-old Sophia successfully defends her doctoral thesis. With a PhD in Political Philosophy and $48,000 in debt after eight years of studies, Sophia is a specialist in a field where there are no jobs. Or, as an employment office counsellor snidely puts it, "on the one hand you're overqualified and on the other hand, you don't know how to do anything."
What Sophia does best is hang out with her older brother Karim (Patrick Hivon), a dashing young professional with an eye for the ladies in whose apartment she's crashing for the foreseeable future. Congenitally sarcastic Sophia wears her sullen indignation like a badge of honor and sets herself up to be misunderstood in social situations in the belief that the world owes her a living. How much a viewer will enjoy the convincingly cringe-making portrait on display here will depend on whether one feels empathy for Sophia's inability-come-reluctance to access the ramp to adulthood or would prefer to reach into the screen and shake her.
Sophia and Karim seem downright incestuous and will do just about anything for each other, yet our heroine's life consists of lurching from uncomfortable situation to even more awkward circumstance. This wears as thin for us as it does for her. When Sophia is assessed for her second abortion, Karim comes along for moral support and realises that he and the somewhat spacey but very pretty gynecologist, Eloise (Évelyne Brochu ) are attracted to each other. Cue seismic changes.
Sophia will have to get out of her cranky rut — and Karim's apartment — but can she finally learn how to navigate a genuine romance the way her brother is doing for the first time? As Karim and Eloise get serious, they set up a double date for Sophia to meet Eloise's dear friend, Jasmin (Mani Soleymanlou), a teddy-bearish midwife recently featured on the cover of Midwife Today Magazine. Will Sophia and Jasmin make it past the initial fun of alcohol, dancing and excess? And where are the modern role models for romance, anyway?
Sophia and Karim's parents keep the spark alive in their ex-marriage by living apart. Dad, whose unspecified origins are exotic by Canadian standards of previous generations, points out that he hasn't done too badly for the son of shepherds. Ironic use of bucolic and soothing melodies provides an interesting counterpoint to uncomfortable situations.
Production company: Metafilms
International sales: Seville International sevilleinternational@filmsseville.com
Producers: Nancy Grant, Sylvain Corbeil
Production design: Eric Barbeau
Editors: Monia Chokri Justine Gauthier
Cinematography: Josée Deshaies
Main cast: Anne-Élisabeth Bossé, Patrick Hivon, Evelyne Brochu, Micheline Bernard, Magalie Lépine-Blondeau et Mani Soleymanlou.