The Bradford Movie Makers club grapples with its fate and that of its ageing members in Kim Hopkins' winning documentary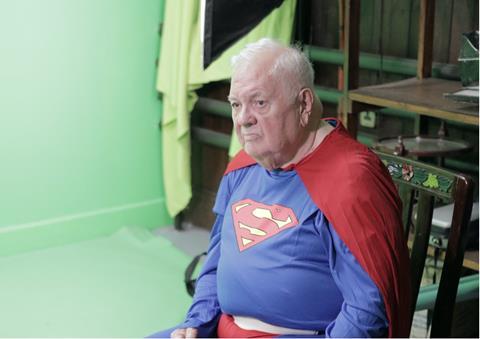 Dir/scr: Kim Hopkins. UK. 2022. 95 mins.
Films are a way to pass the time, but also a means to chronicle our lives. That sentiment powers A Bunch Of Amateurs, a modest but moving documentary about Bradford Movie Makers, a club for amateur filmmakers that may be on its last legs. Writer-director Kim Hopkins spends time with the ageing members, finding in their cinephilia a poignant metaphor for mortality and cinema's own uncertain future. Featuring some of the group's lovably mediocre projects, the documentary neither ridicules their so-so talent nor tries to oversell the purity of their artistic aspirations. Instead, this is a slight, wistful shrug of a picture that's filled with resignation but also a lot of fondness.
Like all kinds of love, cinephilia isn't so easy to extinguish
Recently screening in Edinburgh, A Bunch Of Amateurs won the Audience Award at Sheffield Doc Fest, and further festival exposure seems likely. In fact, few documentaries seem so well-positioned to be embraced by film-lovers — after all, Hopkins' project is about that very subject. But the picture is also a bittersweet portrait of growing old, resisting extreme sentimentality but certainly exuding a crowd-pleasing tone.
Formed in 1932, Bradford Movie Makers used to be a thriving club in the city of Bradford, England. In 2019, though, there doesn't seem to be more than maybe a dozen or so members, and many of them are retirees who have been part of the group for decades. Splitting their time between watching films and making their own ultra-low-budget works, the members have no delusions about their skill as storytellers. But slowly we come to understand how important Bradford Movie Makers is to their lives, which are often lonely or emotionally fraught away from the group.
Hopkins (Voices Of The Sea, Man In The Sand) isn't trying to craft an American Movie-style mocking of feeble filmmakers. Rather, she seems curious about what draws people to join such groups. (An early title card informs us that "During Hollywood's golden age, scores of amateur film-making clubs were formed in the north of England," although the practice has long since gone out of fashion.) A Bunch Of Amateurs suggests that the members' cinematic projects are mostly personally meaningful — therapeutic even. That's never more true than in the case of Harry, an older man who wants to re-create the opening of Oklahoma!, simply because it's the first picture he and his ailing wife Mary saw when they were first dating back in the 1950s.
But such adorableness is consistently undercut by harsh reality. Bradford Movie Makers hasn't paid rent on their communal space in five years, and if the landlord loses patience, the group could be without a place to see films together. Spouses die over the course of A Bunch Of Amateurs, the widowers seeking out their cohorts because they really don't have any other family. And as Colin, an elderly retired carpenter, gingerly walks up the stairs with his cane, every step brings its own bit of drama. Like Bradford Movie Makers itself, he might not be much longer for this world.
To provide the documentary with a bit of a narrative spine, Hopkins follows one of the members, a middle-aged DJ and events manager named Marie, as she tries to raise funds for Bradford Movie Makers. Those efforts are resoundingly unsuccessful, and especially in an age when theatres (and certain sectors of the film industry) are facing hard questions about what the next several years will look like, A Bunch Of Amateurs puts a human face on such anxieties, serving as a muted lament for cinephilia itself. But the documentary isn't particularly romantic about films — instead, there's a hushed realisation that, perhaps, this kind of passionate devotion to cinema may ultimately become more of a niche proposition.
Those disinterested in such discussions will, naturally, not be drawn to a picture like A Bunch Of Amateurs. For the rest of us, though, Hopkins' film offers much to consider, even if the members' own films aren't particularly memorable. She argues that that doesn't much matter — those amateur projects are how these people choose to process the loss and fears they're experiencing. Mostly set in 2019, A Bunch Of Amateurs builds in suspense as we prepare for the arrival of the pandemic, which almost certainly will deliver a crippling blow to this shrinking group. The outcome isn't what's expected, though — and a nice reminder that, like all kinds of love, cinephilia isn't so easy to extinguish.
Production company: Labor Of Love Films
International sales: MetFilm Sales, sales@metfilm.co.uk
Producers: Margareta Szabo, Kim Hopkins
Cinematography: Kim Hopkins
Editing: Leah Marino
Music: Terence Dunn