Octav Chelaru makes his debut with this carefully calibrated portrait of a woman who finds her faith tested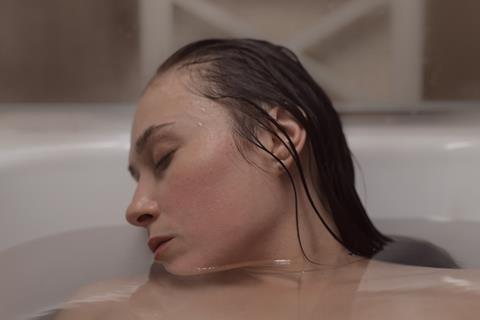 Dir/scr: Octav Chelaru. Romania/Germany/Serbia, 2021. 123 mins
Transgression carries a crushing price tag in A Higher Law (Balaur), Octav Chelaru's intense, carefully calibrated debut feature which follows a woman torn between freedom and faith as she strays from a suffocating marriage. Her moral dilemmas and soul-searching add considerable heft to a film that eventually ventures into more conventional stalker territory. Chelaru's confident handling of the material makes him a talent to watch and should guarantee extensive festival exposure; and perhaps some arthouse interest in territories that have previously supported key titles from the earlier Romanian New Wave.
A portrait of a life that often feels like a prison
We first see Ecaterina (Malina Manovici) running through sunlit woods before stopping to access her secret stash of cigarettes; the smallest act of defiance in an otherwise orderly, obedient life. Cheralu returns to her solitary outings throughout the film, creating the impression that she can run but she can't escape. Married to priest Dragos (Alexandru Papadopol) and the mother of sixteen year-old Florin (Voicu Ivanovici), Ecaterina is a religious studies teacher in small-town Romania. School is where she encourages her pupils to debate theological issues, questioning if free will is ever possible or whether everything in life if pre-ordained. Do rules give meaning to life? Could Judas not have betrayed Christ? Did man choose to eat the forbidden fruit in the garden of Eden. or was there a possibility of resisting? The early classroom debates hang over the film as Ecaterina faces her own temptation.
Chelaru spends the first half of the film immersing the audience in the unvarying straitjacket of Ecaterina's daily routines. Home life is little different from the classroom. Dinner table discussions are also theological arguments. Her husband is controlling, expecting obedience and questioning her every move. A mention of a twentieth anniversary high school reunion is met by bafflement that she might want to attend. In one scene, Ecaterina looks at herself in a mirror, smoothing her flesh and pinching imaginary folds of fat. She appears to question how her life has reached this point and whether there is any hope for change.
Chelaru paints an effective wider portrait of family and community in which everything conspires to belittle Ecaterina and keep her in her place. A priest rebukes her for not covering her head properly. She is constantly diminished and dismissed. Malina Manovici's brittle, flinty performance provides the sense of a woman obliged to constantly suppress her frustrations and disappointments. There is one flare-up in a blistering scene of a dinner with Dragos's parents, in which Ecaterina is once again judged for a perceived indiscretion from twenty years ago.
Our sympathies are entirely on Ecaterina's side by the time she acts on her attraction to Florin's new classmate Iuliu (Sergiu Smeara). A recent arrival from Germany, this baby-faced teenager begins to seem like the devil in disguise. The way he deliberately holds her gaze and becomes a cocky, disruptive force in the classroom are acts of provocation, We have been given clues that Iliu is not what he appears to be. His perception of their fling as something more meaningful is what starts to tip the film into more obvious, and slightly less persuasive Fatal Attraction territory. More melodramatic in its closing stages, A Higher Law has reached that point on the solid foundations of its complex, appealing central character and portrait of a life that often feels like a prison.
Production companies: de Film, 42Films, EED Productions
International sales: Voodoo Films, sales@voodoofilms.ro
Producer: Radu Stancu
Cinematography: Barbu Balasoiu
Production design: Iulia Negoescu
Editing: Dragos Apetri
Music: Martin Kohlstedt
Main cast: Malina Manovici, Sergiu Smerea, Alexandru Papadopol, Voicu Ivanovici