Aaron Taylor-Johnson takes centre stage in this adaptation of James Frey's infamous memoir of addiction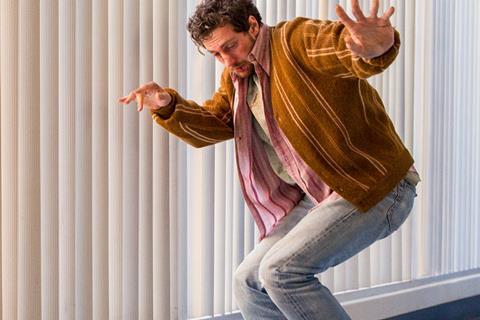 Dir: Sam Taylor-Johnson. US. 2018. 113mins
A study of addiction and recovery, A Million Little Pieces aims to be a realistic look at how a young man pulls himself back from the brink of self-destruction, but its sincerity can't keep the film from stumbling through a litany of drug-drama clichés. Working from James Frey's acclaimed and then reviled 2003 memoir — which turned out to be largely invented and embellished — director Sam Taylor-Johnson and star Aaron Taylor-Johnson choose not to address the aftereffects of Frey's book, which leaves their labour of love feeling frustratingly incomplete. As it is, A Million Little Pieces plays as an earnest but overwrought addition to a familiar genre.
Aaron Taylor-Johnson overdoes his character's nihilistic, desperate demeanour
Premiering at Toronto, the film will court buyers on the strength of Frey's harrowing life story — and the controversy that descended upon him when his purported memoir was found to be fraudulent. A Million Little Pieces calls to mind other rehab films like 28 Days and Clean And Sober, and the Taylor-Johnsons' commercial clout should help, as will a supporting cast that includes Billy Bob Thornton and Juliette Lewis.
A Million Little Pieces opens in 1993 as 20-something James (Aaron Taylor-Johnson) wakes up on a plane, having no idea how he got there or where he's going. Soon, he learns his destination: a Minnesota rehabilitation facility to address his myriad addictions. (He's an alcoholic who's also hooked on crack.) Resistant to the idea of 12-step programs, James discovers that just about the only thing he likes about rehab is a shy, pretty fellow addict named Lilly (Odessa Young).
Sam Taylor-Johnson (Fifty Shades Of Grey) co-wrote the screenplay with her actor husband — she previously directed him in 2009's Nowhere Boy — and beyond an oblique, cheeky reference at the start of the film, A Million Little Pieces never acknowledges that this adaptation may be, at least in part, based on manufactured events.
It's a provocative creative choice, essentially asking the viewer to question the very nature of memoir and to consider how all artists reshape reality for their own purposes. But such musings would be more satisfying if A Million Little Pieces wasn't otherwise a fairly common addiction drama.
A large part of the problem is Aaron Taylor-Johnson, who overdoes his character's nihilistic, desperate demeanour. The actor is fully committed to showing how far James has sunk and how debilitated he is by his demons. (He suffers greatly, and sometimes at great length, during his initial withdrawals.) But that intensity mostly translates to showy displays of anguish and despair. The Taylor-Johnsons haven't done enough to make James a compelling figure — in the name of honestly depicting the slow, arduous process of rehab, A Million Little Pieces too effectively renders its main character as just another addict.
The supporting players reflect the film's two weaknesses. Some of the actors deliver lived-in but conventional turns, while others go for flamboyant, unconvincing portrayals. In the former category, Thornton shines as an older addict who takes James under his wing, displaying a soulfulness that's largely missing elsewhere. And Lewis does what she can as a counsellor (and recovering addict), giving James tough love about the difficult path in front of him.
Young is affecting but doesn't fully transcend the helpless-lass straitjacket; the character mostly exists to further our protagonist's change of heart. More unfortunate is Giovanni Ribisi, who plays a gay man who often seems like a parody of bad old cinematic stereotypes of homosexuals. Like other elements of A Million Little Pieces, the character seems to be the filmmakers' attempt to inject some spark into a frequently despairing tale. As with Frey's book, the movie's adornments are unwelcome.
Production companies: Makeready, Entertainment One, Snoopsquirrel, The Picture Company, 3BlackDot, Federal Films
US sales: CAA, filmsales@caa.com/International sales: Sierra/Affinity, info@sierra-affinity.com
Producers: Aaron Taylor-Johnson, Sam Taylor-Johnson, Brad Weston, Pamela Abdy, Andrew Rona, Alex Heineman
Screenplay: Aaron Taylor-Johnson & Sam Taylor-Johnson, based on the book by James Frey
Production design: David J. Bomba
Editing: Martin Pensa
Cinematography: Jeff Cronenweth
Music: Atticus Ross, Leopold Ross, Claudia Sarne
Main cast: Aaron Taylor-Johnson, Billy Bob Thornton, Odessa Young, Giovanni Ribisi, Juliette Lewis, Dash Mihok, Charles Parnell, Ryan Hurst