Dir. Michael Lennox. UK. 2015. 92mins.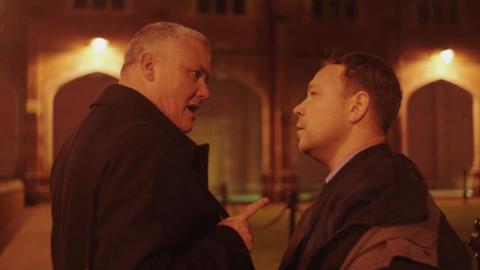 Fresh from the Oscar-nominated and BAFTA-winning short film Boogaloo And Graham, director Michael Lennox makes a reasonably sure-footed leap into feature film direction. A thriller about a kleptomaniac literary celebrity and his relationship with his stalker/blackmailer and wannabe bosom buddy, A Patch Of Fog is elevated by committed performances from Stephen Graham (Boardwalk Empire) and Conleth Hill (best known as the Machiavellian eunuch Lord Varys in Game Of Thrones). Their names alone should be enough to ensure some theatrical interest in the UK at least, although a derivative screenplay and unsatisfying final climax might limit the film's potential to reach a wider audience.
Cinematography is instrumental in guiding us through this somewhat repetitive tale of cat and mouse
Sandy Duffy (Hill) is a television personality – he butts heads with a fellow panellist on an arts review show hosted by Lucy (Lara Pulver), with whom Sandy is in the early stages of a relationship. Sandy's reputation and not inconsiderable wealth are all derived from one novel. Titled A Patch Of Fog, it was published twenty-five years ago. The fact that Sandy has written nothing since does not appear to have curtailed his celebrity, albeit limited tto he Northern Ireland community where he lives.
But Sandy has a secret. His shameful weakness is revealed in a pre-titles sequence: he's a habitual shoplifter. The items snatched are taken for the frisson of danger rather than any great need – he filches cuff-links, pens, easily pocketed trinkets. One day, while browsing the shelves in a tat shop called Wyse Byse, Sandy slips up. He is caught in the act by security guard Robert (Stephen Graham). But after threatening him with the police and public humiliation, Robert gives him an unexpected get out – if Sandy will join him for a drink later, he'll let him off all charges.
A self-confessed loner, Robert's motive is simple. He wants to position himself as Sandy's new best friend. Graham is impressive in the role. His smile is sickly rictus of need; his overtures are an unnerving blend of desperation and calculated design. He is goofily excited by the opportunity to take a selfie along with Sandy – we later see it, framed, on his wall, next to a shrine of detritus accumulated from their encounters. But whenever Sandy tries to distance himself, Robert shuts down any escape routes with steely efficiency and a convenient cache of incriminating material.
Cinematography is instrumental in guiding us through this somewhat repetitive tale of cat and mouse. Matthias Pilz uses a cool, grey palette which is suddenly flooded with saturated colour whenever Sandy finds himself in danger. Which is increasingly frequently, as the stakes of this one-sided relationship are raised.
Even so, the film suffers from the lack of real physical peril which made similarly-themed writer-fan thrillers like Rob Reiner's Misery and Dominik Moll's Harry, He's Here To Help so much more effective. And the climax, which borrows a hackneyed device which would be more at home as the punchline to a Tom and Jerry cartoon than a serious thriller, is a lazy piece of plotting that risks devaluing everything that came before it.
Production company: Fyzz Facility Film Three, The Jones Company
International sales: 13 Films mail@13films.net
Producers: Robert Jones, Wayne Marc Godfrey, David Gilbery.
Screenplay: John Cairns, Michael McCartney
Cinematography: Matthias Pilz
Editor: Livia Serpa
Production design: David Craig
Main cast: Stephen Graham, Conleth Hill, Lara Pulver