Matias Rojas Valencia explores the horrors of Chile's Colonia Dignidad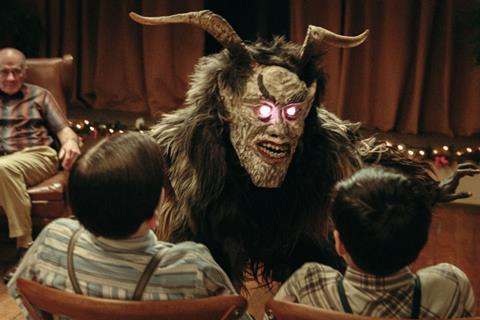 Dir/scr: Matías Rojas Valencia. Chile/France/Germany/Argentina/Colombia. 2021. 95 mins
The dignity referred to in its title is sadly lacking for the characters of Chilean Matías Rojas Valencia's second feature. A study of life in an infamous religious community in 1970s Chile, seen through the eyes of a twelve-year-old boy as he negotiates his relationship with the psychopath who runs it, A Place Called Dignity handles its complex themes with the skill and care due to a project that continues to rankle in Chile as a national embarrassment. Thought-provoking and unsettling, richly atmospheric but strangely lacking in drama, this is a worthy addition to the growing roster of Chilean films seeking to face up to the country's troubled past.
Rojas Valencia's approach is to maintain a fastidious distance from the action, so that drama is lacking
The Colonia de Dignidad was founded by German Paul Shäfer between 1961 and 2005. It has since become synonymous with evil — a place associated with brainwashing, weapons smuggling, the torture and killing of political dissidents, and child abuse. It has been the subject of some fine documentaries, as well as features including Florian Gallenberger's misguided The Colony (2015) and Cristobal León & Joaquín Cociña's sublime stop-motion horror, 2018's The Wolf House. Dignity premiered at Chile's SANFIC festival in August; Valencia's next film, Our Memory, is a fiction/documentary hybrid that will further explore the colony's enduring infamy.
Following a rather plodding set-up, Pablo (Salvador Insunza), whose single mother Cecilia (Gianina Frutero) is struggling to raise him, arrives at the colony as its first Chilean resident. At first, 'Uncle Paul' (Wim Wenders veteran Hanns Zischler) is the father Pablo doesn't have, offering him warmth and attention, and encouraging him to become a member of the choir. But a darker side to the colony is soon evident, in the clearly brainwashed and traumatised figure of Rudolph (Noa Westermeyer), and of troubled nurse Gisela (Amalia Kassai), desperate for a child but forbidden from doing so since Schäfer believes that sex should be for animals only.
Schäfer runs things with an iron fist: disobedience is punished with public humiliation, as revealed in several toe-curling scenes, while the colony is an echo of East Germany and, perhaps of now, with the sheer quantity of its surveillance cameras. The free-spirited and rebellious Pablo will grow to hate his new home and to seek escape. Thankfully not tilting toward sensationalism in his treatment of such potentially lurid material, Rojas Valencia shifts almost too far in the other direction. The pacing is slow and steady, and the camera often still and lingering as Pablo looks on, through windows and from behind curtains, in the undifferentiating way of the young.
In a setting where the deletion of the individual is the whole point, it's hard to create a rounded character. Rojas Valencia's approach is to maintain a fastidious distance from the action, so that drama, and the psychological effects of events on Pablo, are lacking. For example, and perhaps inevitably, the relationship between Pablo and Rudolph feels sketchy. What we get instead are potent atmospherics throughout, as through the boy's inner life is being transmitted through the film's pervading sense of disquiet.
Insunza has wonderfully expressive features, but his role is thus limited by the script's approach. Zischler, as the film's only complex character, has far more to work with as the physically imposing monomaniac Schäfer; the kind of fellow who sniffs people's armpits and then announces that he can smell the devil. As a charismatic cult leader, he is perfectly credible.
There are some authentically terrifying scenes in A Place Called Dignity, which is ultimately a portrait of a community distorted into everything a community should not be. Raised in the colony, Gisela has no idea about how babies are made; she learns it from an encyclopedia, then copulating with Johannes (David Gaete) in the woodshed in a superbly directed, heart-breakingly pathetic parody of young love. Another is a Christmas celebration in which a monster (perhaps a shade too technically sophisticated) enters to scare all the children witless; the scene ends with Schäfer cheerfully announcing to the assembled party-goers that Santa Claus is dead.
Like many a 20th-century German psychopath, Schäfer loves music, and the sweet sounds of the boys' chorus are often an ironic accompaniment to the awful things happening on screen. Handel's Sarabande, as featured liberally in Barry Lyndon, is featured even more liberally here, and mighty though it is, it outstays its welcome. Laura Caligiuri's art direction renders the colony as a pale, thoroughly tidy and uncluttered space, largely shorn of human mess: it's the perfect reflection, in other words, of the dangerous mind of its founder.
Production companies: Quijote Films, Mandra Films, Kinkerfilm, Autocroma, Séptima Films
International sales: New Europe Film Sales jan@neweuropefilmsales.com
Producers: Giancarlo Nasi, Denis Vaslin, Pierre Perrot, Linus Gunther, Sophia Ayissi Nsegue, Titus Kreyenberg, Ivan Granovsky, Luciana Calcagno, Jorge Botero
Screenplay: Matías Rojas Valencia
Art direction: Laura Caligiuri
Editing: Andrea Chignoli, Matías Rojas Valencia
Cinematography: Benjamín Echazarreta
Music: Eryk Abecassis
Main cast: Salvador Insunza, Hanns Zischler, Amalia Kassai, Noa Westermeyer, Tato Dubo, David Gaete, Gianina Frutero