Stately, handsomely mounted biopic of Czech wartime statesman Jan Masaryk, played by Karel Roden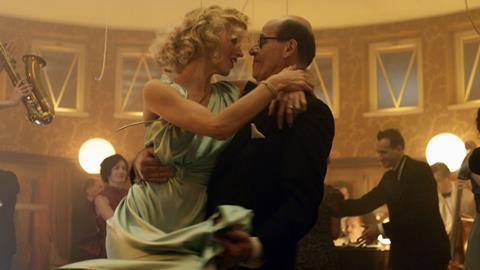 Dir. Julius Ševčík. Czech Republic/Slovak Republic, 2017. 114 mins
The son of Czechoslovakia's first president, a diplomat famous for his candour during the backroom brinksmanship in the run up to the Second World War, a fan of jazz and cocaine and a sometime inmate at a mental asylum: Jan Masaryk (Karel Roden) is certainly a meaty subject for a biopic.
It's hard to imagine a more despairing piece of architecture than the exterior of the psychiatric institute
But interest in Masaryk, who was so celebrated for his illicit wartime broadcasts from exile to the Czech people that he became known simply as 'Honza', the Czech affectionate nickname for Jan, is likely to be concentrated in the domestic market. The third feature from Julius Ševčík (Restart, Normal), this handsomely mounted but overstuffed historical drama might struggle to gain much traction in regions where the Masaryk name is not a selling point, although festival interest will be solid.
We are first introduced to Masaryk as his puffs languorously on a cigarette, picking out the tune of a Czech nationalist anthem on a grand piano. Then a bristling man, irate and armed with a shotgun, stomps into the room and demands to know who he is and what he's doing in the house. Arrested for breaking and entering and playing a piano without permission, Masaryk asks to be taken to the Vineland Psychiatric Institute in New Jersey. He was previously treated there and feels that it's the only place that can help him at his moment of crisis.
This crisis has been triggered by feelings of failure after the British and French government signed the Munich agreement, permitting Hitler's Germany to annex a substantial chunk of Czechoslovakia's border country, rechristened 'Sudetenland'. Masaryk feels that he has neglected the legacy of his father, effectively the founder of the country, and is plunged into depression. The asylum staff are confronted with a quandary – they have a patient whom they are required to address as "Your Excellency" but whom they have to wrestle to the ground whenever he tries to raid the cocaine cupboard.
A cluttered timeline flashes back and forward between the asylum, where Masaryk forges an abrasive friendship with exiled German doctor Stein (Hanns Zischler), and various opulent, wood-paneled drawing rooms. In them, men in expensive suits parcel up bits of Eastern Europe in an attempt to appease the increasingly aggressive Hitler regime. The somewhat bloodless scenes of international politics at work are pepped up with glimpses of Masaryk's party lifestyle. He has an stormy affair with the wife of a British politician; later he meets the American writer Marcia Davenport. A light dusting of cocaine is present throughout.
Effective locations choices add to the atmosphere of the film – it's hard to imagine a more despairing piece of architecture than the exterior of the psychiatric institute. But the pacing of the story is stagnant. There are several montage sequences which, rather than drive the narrative forward, seem to repeat the same points over and over again. And while Roden delivers a compelling central character, some of the peripheral performances struggle to convince.
Production company: In Film Praha
International sales: Beta Cinema beta@betacinema.com
Producers: Rudolf Biermann, Julius Ševčík
Screenplay: Petr Kolečko, Alex Koenigsmark, Julius Ševčík
Cinematography: Martin Štrba
Editor: Marek Opatrný
Production design: Milan Býček
Music: Michał Lorenc
Starring: Karel Roden, Hanns Zischler, Oldřich Kaiser, Arly Jover, Paul Nicholas, Dermot Crowley, Milton Welsh, Eva Herzigová, Emília Vášáryová