A loner in America's Southwestern desert is the elusive subject of this mysterious documentary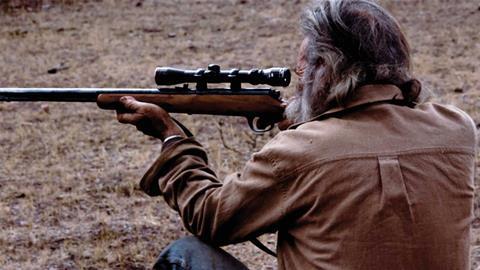 Dirs: Lisa Marie Malloy & J.P. Sniadecki. US. 2020. 77mins
Social distancing takes on a disquieting new meaning in A Shape Of Things To Come, an ethnographic documentary that follows an older man living alone in the desert, content to be far removed from society. Slight but also intriguingly mysterious, directors Lisa Marie Malloy and J.P. Sniadecki's minimalist portrait evokes several themes — everything from the restorative power of nature to civilisation's destructive tendencies — without ever landing on anything concretely, letting its agenda be as opaque as the film's subject. But as Shape Of Things moves along, a subtle growing tension begins to assert itself, suggesting that what we've witnessed might be just the beginning of a much darker story.
Because Sundog reveals little about himself, what he ultimately does will probably be a surprise to viewers
Screening as part of CPH:DOX, Shape Of Things would seem to be a shoo-in for widespread festival play if not for our current pandemic. Fans of experimental, immersive documentaries such as 2102's experimental Leviathan, set on board a fishing trawler, should seek this out — and, indeed, that film's directors, Verena Paravel and Lucien Castaing-Taylor, are thanked in the end credits. Still, commercial prospects seem tiny, although the movie's environmental issues could speak to a sizable swathe of viewers.
Identified only as Sundog in the credits, a solitary bearded man, probably in his 60s, lives in the Sonoran Desert of the American Southwest near the Mexican border. Although largely off the grid, he does have a car and a cellphone as he hunts for food and cares for a few animals at his makeshift home. Keeping to himself — he hardly speaks to the filmmakers — he takes a keen interest in nearby US surveillance towers, evidence of humanity encroaching on his wilderness paradise.
Shape Of Things unassumingly chronicles Sundog as he silently goes about different tasks, the cameras never intruding into his routine. This documentary doesn't have much in the way of conventional narrative, but Malloy (making her full-length debut) and Sniadecki (El Mar La Mar, The Iron Ministry) plunge us into Sundog's day-to-day activities, letting us piece together how he make this unconventional life work for him.
The directors (who also serve as cinematographers and editors) give the film a gentle, unhurried quality, although that tranquillity is occasionally interrupted by, for instance, Sundog shooting and gutting an animal — or, in one of Shape Of Things' most arresting sequences, capturing a frog to take its venom. We learn almost nothing about this man's backstory, and so we're left to ponder what inspired him to leave society's creature comforts behind.
Because Sundog reveals little about himself, what he ultimately does will probably be a surprise to viewers — and just as unsettling, Malloy and Sniadecki refuse to provide context for a critical action that he takes. That lack of explanation — and the lack of a "proper" resolution to that action — adds troubling undertones to the proceedings that highlight a seemingly minor conflict between this man and the civilisation he eschewed. For most of Shape Of Things' 77-minute running time, Sundog comes across as a taciturn but good-natured individual, but the final reels hint that perhaps there is something lurking within him, something violent, which one day may come bursting out.
Those with no patience for subtlety may become frustrated by Shape Of Things, which is a documentary as much about an offbeat way of life — one close to the earth — as it is about Sundog. The wide-open desert, gorgeous in the daylight but spooky and ethereal at night, is beautifully photographed, and Sundog makes for a captivatingly peculiar figure. His eccentric behaviour, including making odd cooing noises at times, and his wiry mountain-man appearance make him both sympatheric and vaguely threatening. A Shape Of Things To Come may not offer any grand insights into the never-ending battle between humanity and nature — between taking part in society and leaving it all behind — but this minor-key documentary suggests that, like some wild animals, Sundog is perhaps someone you don't want to corner. There's no telling what he might do.
Production company/International sales: Rivers and Lakes Productions LLC, jpsniadecki@gmail.com

Producer: J.P. Sniadecki
Editing: Lisa Marie Malloy & J.P. Sniadecki
Cinematography: Lisa Marie Malloy & J.P. Sniadecki