Sundance prizewinner follows a sprawling Romanian family's forced move from the wilderness to the big city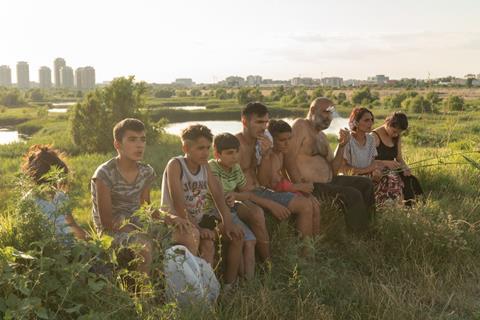 Dir: Radu Ciorniciuc. Romania/Finland/Germany. 2020. 86mins.
A family living off the grid for nearly 20 years discovers just how hard it is to integrate back into civilisation in Acasa, My Home, a sobering documentary that speaks bluntly about the plight of the underclass. In his directorial debut, Romanian investigative reporter Radu Ciorniciuc delivers an immersive portrait of the Enaches, who must give up their ramshackle existence in the Bucharest Delta to re-enter society, a proposition they find deeply dispiriting. Eschewing inspirational platitudes or easy paeans to the simplicity of pastoral life, Acasa convincingly argues that, for the poor, scraping by is hard no matter where you lay your head.
Like any good reporter, Ciorniciuc sticks to telling his story without embellishment or phony uplift.
Recipient of Sundance's World Cinema Documentary Special Jury Award for Cinematography, the film seems set to continue a festival and streaming career where it will appeal to niche audiences. Ciorniciuc doesn't include narration or interviews, trusting viewers will be able to piece together the Enaches' struggles on their own.
Just outside Bucharest lies an abandoned water reservoir, an untamed environment of lakes and wild animals for the Enache family, led by patriarch Gica, his wife Niculina and their nine children. Taking up residence in a makeshift shack, Gica long ago fled civilisation to live with his brood close to nature. (His teenage son Vali catches fish right out of the lake and then goes door to door in the nearby metropolis trying to sell them.) But when the local government intervenes, forcing them to move into the city, the impoverished Enaches must undergo a painful transition.
Ciorniciuc and his fellow cinematographer Mircea Topoleanu embed themselves with this family, chronicling the journey from the reservoir to Bucharest and providing intimate images of the Enaches as they try to cope. Acasa never engages its subjects directly, and while that prevents us from getting a strong sense of many of the family members, Vali and his father Gica slowly emerge as the documentary's protagonists.
Aside from a stray mention that he used to work in a chemistry lab, Gica's past is a mystery, but the anger he exhibits toward Child Services and other government bureaucrats suggests a prickly misanthrope who bristles at society's strictures. By comparison, Vali is a lively, soulful teenager who, as opposed to his many siblings, sees the advantages Bucharest can offer. (For one thing, a girlfriend soon materialises, although their relationship eventually goes in a worrying direction.)
Acasa has no illusions that Gica's Delta home was more idyllic — we see that the Enaches lived in filth and the children were illiterate — but civilisation can only do so much for these people. Bunched together in close quarters in a dingy apartment with no social safety net to help them, they feel alienated and resentful. Unaware of (or indifferent to) Bucharest's laws, the children swim in public fountains. School is an alien experience. Subtly, Ciorniciuc illustrates how people like the Enaches fall through the cracks — how is this destitute new life much better than the one they had to abandon?
Anyone hoping for some sliver of a happy ending will be left wanting by Acasa, which to its credit doesn't overdo the misery. Editor Andrei Gorgan intercuts just enough moments of happy interactions within the family that we recognise them as a loving, albeit unconventional group. Ciorniciuc's journalistic background infuses the film with rigour and forward propulsion so that a narrative spine begins to develop. And he does a fine job contrasting the family's reality with the puffed-up words from politicians and community leaders, who see the Bucharest Delta as merely an opportunity for an urban park. (Prince Charles even makes a sublimely incongruous cameo at one point.)
Not surprisingly, Acasa doesn't offer much in the way of solutions for the Enaches of the world, but the way that Vali slowly rebels against his hardheaded father at least hints at the possibility of a brighter future for some members of this family. But even so, Ciorniciuc remains circumspect: Like any good reporter, he sticks to telling his story without embellishment or phony uplift.
Production company: Manifest Film
Sales contact: Autlook, welcome@autlookfilms.com
Producers: Monica Lazurean-Gorgan, Radu Ciorniciuc
Screenplay: Lina Vdovii
Editing: Andrei Gorgan
Cinematography: Radu Ciorniciuc, Mircea Topoleanu