A deceptively slender story marks an accomplished debut from Maryan Touzani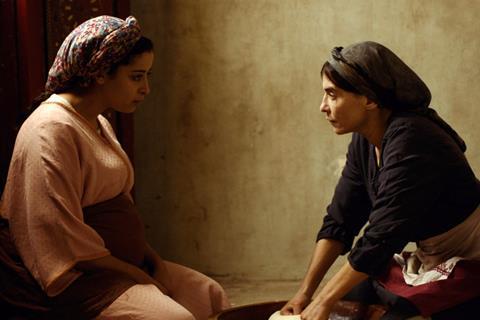 Dir: Maryam Touzani. Morocco/France/Belgium. 2019. 100mins.
Adam is a deceptively small story about elemental themes, most specifically the beauty and mystery of motherhood. First-time feature filmmaker Maryam Touzani has dedicated the movie to her own mother, and indeed this is a kind, resonant portrait of two women — one who is a mother and one who is reluctantly about to become one. Deft performances from Lubna Azabal and Nisrin Erradi add heart and soul to this slender chronicle of a de facto family learning to rely on one another.
One of Adam's central pleasures is its calm arrival at fundamental truths about how women nurture and provide — even when they themselves receive little of the same.
Screening in Un Certain Regard, Adam will court buyers who can smartly market this picture as a celebration of everyday women, although strong reviews and warm festival reaction will also be crucial.
Taking place in Casablanca, the movie stars Erradi as Samia, a pregnant young woman who is homeless but hoping to find a job. She meets Abla (Azabal), who works tirelessly as the owner of a modest local bakery and lives with her precocious 8 year-old daughter Warda (Douae Belkhaouda). Abla is wary of letting Samia stay with them, but Warda's affection her eventually wears Abla down.
Touzani's debut isn't a tightly plotted affair, instead emphasising the gentle shifts in the relationship between these characters. Initially, Abla is established as an unsmiling, all-business matriarch, with her cute-as-a-button daughter helping to lighten the mood, but eventually Samia begins to unearth something within Abla that has been repressed. Abla resists this interloper's intrusion into her bakery and her home, but a bond develops, allowing Abla to slowly lower her guard.
Thankfully, Adam isn't the sort of character drama to rely on wild melodramatic twists, and so audience patience is essential in order to acclimate to the film's quiet rhythms. As much as Samia loves spending time with Warda, she is determined to give up her baby the day it is born, convinced that the child would be luckier living with any adoptive family. What Samia doesn't realise is that, despite a difficult life, she has found a new family in Abla and Warda that can help mend the pains of the past. None of this is revealed in bold flourishes, however, and one of Adam's central pleasures is its calm arrival at fundamental truths about how women nurture and provide — even when they themselves receive little of the same.
Azabal does delicate work as a mother grappling with private grief, and some of the actor's best moments are the quietest, including a scene where Abla silently examines her body in the mirror, making a million mental evaluations about her attractiveness and the effect that ageing has had on her. Belkhaouda is terribly adorable as Abla's bright-eyed daughter, but Erradi is Adam's true heartbreaker.
It would have been easy for Touzani to conceive Samia as an impoverished angel whose financial destitution belies a rich spirit. But rather than drifting toward cliché, the filmmaker and Erradi give us a complicated portrayal, obscuring much of the character's backstory and focusing on Samia's reluctance to become a mother. Warda is endlessly delighted by Samia's big, round tummy, but Samia views her pregnancy as both a sign of her personal failings — the father isn't in the picture — and a clear indication of her uncertain future. And yet, the character learns by helping Abla open herself up that she, too, has the potential to change. Erradi communicates these discoveries almost invisibly, leading to a final stretch that acknowledges motherhood's endless challenges as well as its opportunities for rebirth.
Production companies: Ali N' Productions, Les Films Du Nouveau Monde, Artemis Productions
International sales: Films Boutique, contact@filmsboutique.com and louis@filmsboutique.com
Producer: Nabil Ayouch
Screenplay: Maryam Touzani, with the collaboration of Nabil Ayouch
Production design: Pilar Peredo
Editing: Julie Naas
Cinematography: Virginie Surdej
Main cast: Lubna Azabal, Nisrin Erradi, Douae Belkhaouda